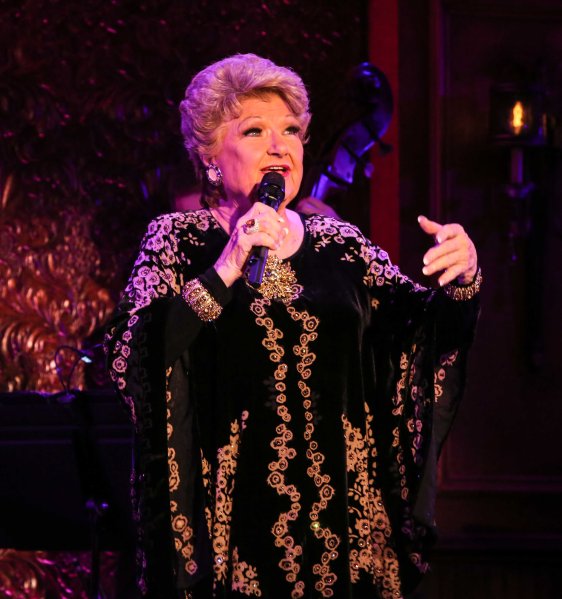 The second coming of Marilyn Maye continues full steam ahead at 54 Below, where she's packing in the wild and the worldly wise through Nov. 2. Miss her at your own peril.
Crisp and colorful as the autumn leaves that swirl above, this lady takes over the swanky basement under the old Studio 54 the way Grant took Richmond, bringing back some of the old razzle-dazzle that used to keep hip New Yorkers up all night. Call what this polished octogenarian is doing in her dotage anything that strikes your fancy, but she puts the nightclub back in cabaret. Often mislabeled by her tumultuous fan base as a jazz singer, she can scat, improvise and break up her phrases in a conversational tone just like the best of them, but concentrating in this October visit on Broadway show tunes, I call her just plain miraculous. Oddly enough, she has never been on Broadway, although in her hometown of Kansas City, where she is a living legend, she did play a joint called the Colony on Broadway for 11 years running. No wonder the 29 or 30 showstoppers she croons and swings every night at 54 Below are all meaningful and special. After all, she recorded most of them first.
So you get the gamut, from obscure Broadway shows like Sherry and How Now Dow Jones (she has turned Carolyn Leigh's lyrics to "Step to the Rear" into a theme song for enough political campaigns to elect a new Congress) to historic cornerstones like Hello, Dolly! and Mame. Since the early days of her career, when she was a singing regular on Johnny Carson's Tonight show, she has come full circle. And she has forgotten nothing and lost none of her power or sparkle along the way. When she belts out "look at the old girl now, fellas" on Jerry Herman's title tune from Dolly, the audience goes seismic.
Some of the highlights: "Have You Met Miss Jones," which her cousin Joy Hodges introduced in the Rodgers and Hart show I'd Rather Be Right back in 1937; a sublimely blue but optimistic "Look for the Silver Lining," which Jerome Kern wrote for Flo Ziegfeld's golden girl, Marilyn Miller (her mom's favorite star and Ms. Maye's namesake); and almost the entire score of Guys and Dolls, including the guys' songs ("The Oldest Established Permanent Floating Crap Game in New York" is a milestone).
Starting from some spontaneous place and creating a mood based on the story told in the lyrics, she becomes a collaborator to Kander and Ebb, Jerry Herman, Frank Loesser, Lerner and Loewe, and Stephen Sondheim, and an inspiration for young audiences hearing their songs for the first time, catching moments of truth as she goes along.  "I'm Still Here," Sondheim's survivor anthem from Follies, seems to have been penned with her in mind.  She has such an intense understanding of what she's doing that, before the cheers fade, she morphs "Put on a Happy Face" from Bye Bye Birdie into a medley from My Fair Lady that includes a soft-tempo "I've Grown Accustomed to His Face," turning "Wouldn't It Be Loverly" into a jazz waltz before she comes in for a crash landing on "The Street Where You Live" you will not soon forget. She's the best, and so are her musicians—drummer Ray Marchica, bassist Tom Hubbard and swinging, preppy pianist-arranger Tedd Firth, who does a bit of show-stopping himself feeding her the lead-ins to "What's Playing at the Roxy" with a deadpan delivery and poker face that cracks up everybody in the room. (Billy Stritch replaces him on the 88s beginning Oct. 24.)
Marilyn Maye is a happening kind of broad, in the best sense of the word. She's funny and imaginative, has the kind of warm rapport with an audience Judy Garland used to have and displays the kind of socko energy that used to be a Betty Hutton exclusive. She leaves no stone unturned and no song unsung and loves to tell her audience, "I'm singing as fast as I can."  Stopping time and making every minute count, she converts the stage at 54 Below into a master class in Show Business 101.