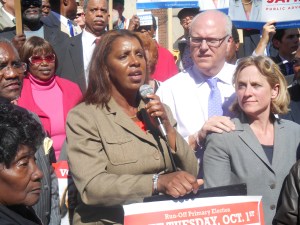 In the days leading up to today's runoff election, the public advocate's race reached its final, frenzied–and personal–pitch.
Included in the barrage was a pair of mailers sent over the weekend alleging City Councilwoman Tish James, who is in a runoff against State Senator Daniel Squadron, obtained a "sweetheart" loan on her Brooklyn home, which has come under scrutiny in the past.
"WE CAN'T TRUST LANDLORD LETITIA JAMES BECAUSE SHE'S TOO BUSY LOOKING OUT FOR HERSELF," read the anonymous mailers, which accuse Ms. James of getting "a sweetheart loan for her $1 million Brooklyn brownstone from a non-profit she steered taxpayer dollars to."
The charge appears to stem from a $14,000 loan Ms. James received from the local community lender Neighborhood Housing Services, which aims to "provide residents with the opportunity and skills to rebuild and strengthen their neighborhoods." According to Department of Finance records, Ms. James received a loan from the group in March for emergency repairs to her brownstone building after a water main break.
Not long before, Ms. James allocated $3,500 to the East Flatbush office of the same group via a City Council member item–taxpayer money doled out by legislators in their districts. The money was intended to pay for "foreclosure intervention counseling and financial capability coaching to revitalize underserved neighborhoods," according to Fiscal Year 2013 budget documents.
However, the claim that Ms. James obtained any kind of "sweetheart deal" appears to be a stretch. Documents show that the loan came with an 8.99 percent interest rate–significantly higher than the amount advertised on the group's website and advertised by other emergency home repair providers elsewhere online. (Without knowing Ms. James's credit history, however, it is difficult to judge.) The two offices also appear to operate somewhat independently, though they share a central website, financial documents and board of directors. Messages left with both offices on Sunday and Monday were not returned.
According to the city's ethics rules, elected officials are prohibited "from using or attempting to use their City positions to obtain any financial gain, contract, license, privilege, or other private or personal advantage, direct or indirect"–but there appear to be no rules barring council members from doing business with groups to which they allocate discretionary funds. The rules specifically note that members should not be prohibited "from accepting or receiving any benefit or facility which is provided for or made available to citizens or residents," including "obtaining a loan from any financial institution upon terms and conditions available to members of the public."
Ms. James's campaign spokesman declined to comment, but her team released a letter yesterday from three members of the state's Congressional delegation–Yvette Clarke, Gregory Meeks and Hakeem Jeffries–calling on Mr. Squadron to end his "bully tactics" and "personal attacks."
A Squadron spokeswoman did not respond to questions about whether the mailers were paid for by the campaign but returned fire yesterday, charging that Ms. James was the one "Lobbing Baseless Personal and Untrue Attacks Against Squadron."
"From Day One, Councilmember James has been lobbing personal and baseless attacks at Daniel in an attempt to mislead and distract voters. In many cases, her campaign continues these attacks even after they've been proven untrue. Our campaign will continue to focus on the facts — because New Yorkers need a Public Advocate they can trust to fight for them," she said in a statement.
Ms. James's four-story building came under scrutiny earlier this year when Crain's New York Business reported that she had failed to report rental income from the property on her financial disclosure forms. Tax documents released by Ms. James's campaign last week showed that Ms. James lost nearly $14,000 on the property in 2012.
Department of Buildings records also reveal two open violations against the property, including a previous owner's failure to obtain the Certificate of Occupancy need for multi-family occupancy. On September 14, 2007, Ms. James was also cited by the Environmental Control Board for a "hazardous" violation after a contractor doing work on the property apparently failed to notify the agency that it was using a particular kind of scaffolding and after workers were found lacking proper identification. Ms. James paid $500 for the infraction, the records show.
The DOB did not return requests for comment about why the violations remain open years later.
Update (3:07 p.m.): Mr. Squadron's spokeswoman confirmed the mailers were sent from their campaign.