In 1997, not long after he was hired at Spin magazine, Marc Spitz saw space rock band Spiritualized play at Windows on the World. Taking advantage of an open bar, he got shitfaced and had an epiphany looking out from the 106th floor: "I was getting older," he thought. "I'd be bald by the time I was 30. … Life was short. … I was 29. This was the time to fuck shit up. This was the time to rock the fuck out. … There was no reward for good behavior in this business. … What was the worst that could happen? I'd lose my job. I'd die? … What would Lester do? What would Jesus do? No, no forget that. What would fucking Batman do?" He decided to become "a rock writer superhero."
Over the past few years, Mr. Spitz has been thinking about his own heroes or, rather, about how he got over them. As he describes the process of writing his recent memoir, "I wanted to tell the story of my conflict with becoming a real writer and real person after spending pretty much all of my life trying to be like my heroes."
Mr. Spitz, who is prolific (he has written two novels, 13 plays, three rock bios—Green Day, Bowie, Jagger—and 14 cover stories for Spin), is in a really good place right now, he told me over drinks recently (four drinks or 90 minutes, whichever came first, we'd agreed) at the Radio Bar, his local. ("Given my history, I should probably be drinking at the White Horse, because Bob Dylan drank there and Dylan Thomas and whatever; I just find it kind of gross over there.") He keeps a clean apartment. He doesn't do junk. He doesn't need the attention of everyone in the room as soon as he walks in. He stays in most of the time. He's … good. "You know that Jam song 'But I'm Different Now'?" he asked. "It's on Sound Affects. I'm different now."
In March, he published Poseur: A Memoir of Downtown New York City in the '90s, his seventh book. He's on his second draft of a new book, about "twee," set to come out next year, and his new play, Revenge and Guilt, is on until Oct. 19 at the Kraine Theater in the East Village, where he also happens to be making his directorial debut. "It's very phase two," he said of his life at the moment. "I'm deep enough into my 40s now that I can't even pretend to operate in the old way anymore. … I want to clean up my life, and I want to make a lot of money. I think I've put in the time with my cred thing."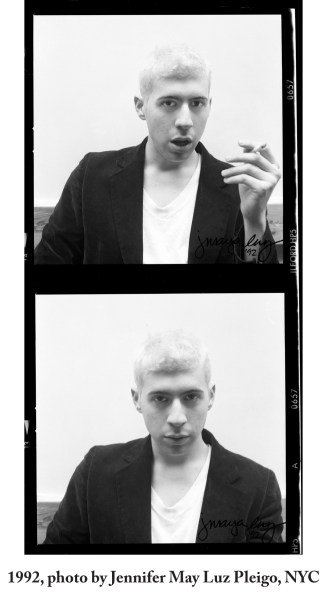 I fetched three drinks (bourbon neat for him, beer and whiskey soda for me). The long-sleeve, cotton shirt and corduroys seemed a different look for Mr. Spitz, who used to dress like a louche, flamboyant rock star. (I vividly recall him on one occasion in the old days, looking elegantly wasted, sporting a black velvet jacket, a black feather boa and black sunglasses.) These days, he is comfortable wearing sneakers (black Keds) in public. "For me, that's a huge leap, because I used to wear these zip-up, punk-rock, Cuban-heel boots from, like, Metropolis," he said, before recalling the time he was walking down the street and heard a guy mutter "asshole" under his breath. "I was like, What the fuck? And then I looked at what I was wearing and was like, I would call me an asshole, too. I was wearing giant black bug sunglasses and a vintage overcoat with a fur collar and a scarf and probably had a cigarette dangling out of my mouth. This was not that long ago."
Mr. Spitz reveals a great deal about himself in Poseur. "It's weird, George, because I will literally be mopping my floor, and something that I said, that I always considered a secret, I will flash to it, and I'll remember now that it's not a secret anymore, because it's in the book. And I'll have a little panic moment, and then I'll get over it, because, in a lot of ways, we're the sum total of our secrets."
The memoir idea began three years ago. He was 39, single again and dating another regular at Radio, "J.C.," a beautiful, tall, thick-haired woman who wears nerd glasses and capes in the winter. "It was like really sort of like '80s teen movie fantasy sex," he said. He was happy. But nothing good was happening professionally, and he'd been writing nonstop for 13, 14 years: "I was like, I'm done, and my only responsibility in life is to walk my two fucking dogs and fuck this woman and pick up a bar tab every once in awhile, and that would be that. And then I was like, Fuck, I do not want to turn 40 as that guy."
A week later, days before turning 40, he was going through diaries, old letters, rejection letters, love letters, reporting notepads, Polaroids. Then he started an outline. "Part of it was fueled by [Patti Smith's memoir] Just Kids, which had just come out and was getting a lot of attention. I got kind of tired of that '60s and '70s New York myth yet again establishing its dominance, and our time was just a pale imitation of that Downtown New York bohemia, which to an extent is true but to another extent is bullshit. … The city is what makes it important, and the balls to, like, get here and be young and be creative and brave is what makes it important. Patti Smith doesn't own that."
In 2010, Ms. Smith told Jonathan Lethem that "New York has closed itself off to the young and the struggling" before suggesting they find a new city like Detroit or Poughkeepsie. "New York City has been taken away from you. So my advice is: Find a new city." Mr. Spitz admitted to feeling that way sometimes, but he would never say such a thing. "You just look silly if people see that in print; you just look like an old grouch. You know, you have to say it's over for me. You can't speak for the city; you can't pronounce the city dead. "
Poseur was the first book he wrote without a deal in place. Working day and night ("like a fucking fever"), he finished the first draft in six weeks. Then one night he showed up at the Cowgirl Hall of Fame restaurant and handed his agent a shopping bag with the book stuffed inside. James Fitzgerald knew they weren't going to get a lot of money, but he liked Poseur and began shopping it around. Months went by without a bite.
"Rejection, rejection, rejection," Mr. Spitz recalled. "It's like, 'We don't know how to market it. It's not a self-help memoir. Marc's not famous. He's known among a certain niche in New York as, like, a writer, but nobody anywhere else knows who the fuck this person is.' And I kept saying over and over again, 'It's not about me being famous. New York City is the star of the book, or the '90s is the star of the book.'"
Eventually, Mr. Fitzgerald found a publisher, De Capo, a small house owned by a much bigger company, Perseus Books. To Mr. Spitz, this was like signing with an indie label owned by a major label, which meant they could get Poseur into bookstores everywhere. Another plus: De Capo published one of his favorite books, The Dark Stuff by Nick Kent, who moved to Detroit from London in the '70s to learn how to write about rock 'n' roll.
After another round, I showed him my copy of Poseur. It was dog-eared, well-worn, which pleased him. "You know how writing has temperatures?," he said. "I was really lonely when I was writing it. … I was reaching out to people I hadn't seen or talked to in forever through the book and communicating with the ideas of them through the book."
We both felt similarly about Black Postcards, a terrific memoir by Dean Wareham, the musical genius behind Galaxie 500, Luna and Dean & Britta. (Wareham blurbed Poseur.) "Whether you're reading Dean's book or Jim Carroll or even fiction like Salinger, you have that friend for as long as they're on the page, as long you still have the book to finish," Mr. Spitz said. "And because I was friendless at the time, I was writing mine; I wanted to see if I could be that imaginary friend for a reader, and then maybe I would have somehow a friend in them."