The day Poseur came out, Mr. Spitz had a fun, crowded party at one of his old haunts, the Slipper Room, where he used to deejay. He made a nine-hour-long, "obsessive" '90s playlist. Mr. Wareham was there, as was Adam from Fountains of Wayne and James Iha, of the Smashing Pumpkins. But it was nothing like his 2003 book party, the one for his novel How Soon Is Never, held in the tiki lounge basement part of Niagara on Avenue A. Chloe Sevigny and Tara Subkoff were in the little alley out back. Mr. Spitz was chain-smoking under the fire escape.
After the tiki lounge, Mr. Spitz met Julian Casablancas from the Strokes at Library, where they drank until last call with two "strange hipster girls" then picked up beers and did coke at Mr. Spitz's pad until sunrise. One of the girls warned their host not to do blow through a dollar bill or he'll get hepatitis. He figured he already had it and snorted away: "It didn't matter. The book was out now. I'd said my piece. I was ready to die. I always was at a certain hour of the night but never in the morning as I took my penitent shower and bargained with God."
Mr. Spitz wrote the first national cover story on the Strokes after going on tour with them. "Ultimately, I think their story is a sad one," he said. "They didn't even become like a Pearl Jam, where they were like willfully uncommercial and touring and playing for their fans, fostering a community. They just sort of stopped. They seem to be in a weird purgatory between being a current functioning band and an ex-band. I'm a purist and a romantic about rock 'n' roll, and I feel like you go either one way or the other. You crash and burn, you fuck up, you fail, you have a glorious burnout. Or you just grit your teeth and like fucking go to work, and you tour, and you tour, and you tour." He sees them as "the last rock stars, kind of. They weren't dangerous as people, but there was a danger to what they were creating. At the risk of sounding like Fran Lebowitz, I lament the end of that."
His new persona as a "rock writer superhero" was an amalgam of all of his favorite tortured artists and a more flamboyant version of himself. He also took cues from the likes of Nick Kent, Jim Carroll and Lou Reed. He also formed a band, Marc Spitz and the Spurts, which never played live, just rehearsed. "They're Way Sluttier in L.A." was one of their songs. "We were terrible. No, I was terrible. I was a liability. I had no talent. … It was like a form of self-destruction on par with, like, doing junk—you're sort of negating the essence of what you are. "
For six years, he behaved like a decadent, self-destructive, egomaniacal rock star, even—especially—in the presence of real rock stars, which often worked to his journalistic advantage. Early on, he realized that interviews with celebrities are artificial—"so fucking unnatural"—and you never see these people again. "So two things happen," he said. "It's like you agree to fake it for as long as you need to or you pretend you're friends and you become friends, and I know a lot of journalists who've actually become friends with their subjects. Or you do what I did, which was I got three Valium and two lines of cocaine and a half a pint of whiskey and just pushed that into my face, and then I put on a big pair of bug sunglasses and a scarf. And I showed up, and I lit a cigarette, and I said, 'So,' and then I did the Charlie Rose thing dressed like that."
At least twice, he pushed it too far and almost got fired. He was rude to members of the band Interpol, and their publicist tattled. Then on assignment in London to hang out with Coldplay, he drank heavily, abused a Spin credit card and then borrowed money from the band's lead singer, Chris Martin. Back in New York, he learned from Editor in Chief Sia Michel that his Coldplay story was going to have to be cut for space, which she said was too bad because it was good. "I'm not sure if it was 3,000-pounds-in-expenses good," she added.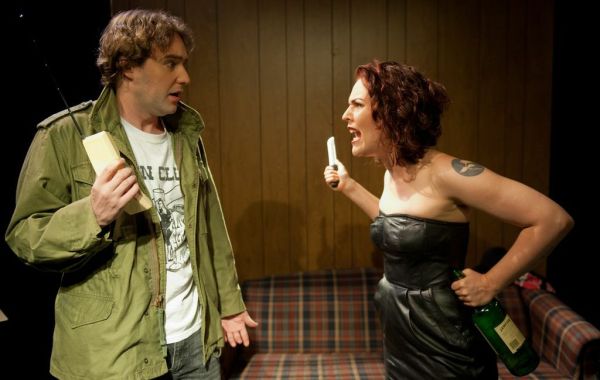 His first editor at Spin, Tracey Pepper, called his alter ego Bad Marc. "I became him to the point that it was hard to get rid of him, and sometimes I think that he's still there," Mr. Spitz confessed. "I have moments that I wonder if I'm lucid, if I'm making sense, moments when I struggle and I go out and I drink like seven whiskeys in a row and do drugs and I'm like, Oh, there he is."
In 1999, he came up with the idea to reunite the Smiths and teamed up with Victoria de Silverio, a Spin editorial assistant ("I was in love with her"). They succeeded in interviewing every member of the band except Morrissey. The piece never ran. Mr. Spitz admitted that his book How Soon Is Never is "very, very autobiographical": Joe Green, a music-obsessed kid from Long Island ("a very thinly version of me") falls in love with the Smiths in high school, becomes a heroin addict in college, kicks the habit (Mr. Spitz hasn't had any since the early aughts) and in 1995 lands a job at Headphones magazine's newly launched website. Joe also tries to reunite the Smiths with a fetching editorial assistant, Miki, but they can't score a sit-down with the elusive Moz.
But on March 3, 2004, the singer agreed to meet Mr. Spitz for tea in Los Angeles. This time, Bad Marc was nowhere in sight. "Morrissey was the interview that required the most intellectual endurance," he recalled in Poseur. "There were no crutches beyond a cup of tea. I didn't smoke. I didn't wear sunglasses. I felt as if I'd be O.K. so long as I kept him interested. I don't remember breathing." (The 4,500-word transcript of their conversation appears at the end of How Soon Is Never.)
Next, Mr. Spitz got very drunk in the Polo Lounge with a woman who was directing his play, Shyness Is Nice, at a theater in L.A. Colin Farrell was there on crutches. That night, he slept in a room at the Beverly Hills Hotel. Spin had to pay for a room in order to secure a tent by the pool where Morrissey wanted to conduct the interview.
Several movie people have owned the option for How Soon Is Never; now he feels like it's finally happening. Milo Ventimiglia (Heroes, Gilmore Girls) is set to produce and star as Joe Green. Morrissey isn't involved but has in the past asked about its progress and who will play whom.
In the meantime, Mr. Spitz is putting the finishing touches on his book about "twee." "I go back to the 1950s, postwar, The Catcher in the Rye, those Salinger stories. That's kind of where it starts. You can draw a cultural line from The Catcher in the Rye literally up to Zooey Deschanel. It's my job to connect all these lines. I tell the story of Jonathan Richman going over to England in '77 and playing 'I'm a Little Dinosaur' for all the punks, and they're expecting this, like, snarling guy who wrote 'Roadrunner.' And it turns out that he's got, like, no amps, he's doing, like, doo-wop melodies, and there's people in Mohawks and safety pins in the audience."
The word itself, he said, is provocative. "I've had more than one person I've approached to interview send me back the dictionary definition. It's childlike, immature, vaguely effeminate, fey; I met with hostility with some sources immediately and had to sort of neutralize it. Some I even promised that the book wouldn't be called Twee, and now the publisher wants to call it Twee. … I think there should be a kitten on the cover." (As of September, the working title is Every Beautiful Thing That We See.)
Mr. Spitz doesn't see "twee" as pejorative. "I think it's kind of heroic in a way. It's like you're confronting this fixed idea of what rock 'n' roll is supposed to be—swaggering, masculine—and that's the only way that it can potentially be powerful. You know, the Mick Jagger book I did sort of took up the contrary opinion that he was just as cool as Keith. I like defending things that are sort of dismissed or speaking up for people or movements that have haters."
Then there's the new play. Revenge and Guilt is a semi-autobiographical story about a guy named Cal whose teenage dreams of being a rock star were destroyed by a guitar teacher (named Major) who told him to forget it—he simply didn't have the goods. This also happened to a 14-year-old Marc when he took one lesson from a longhaired classic rock fan. Afterward, he told his mother he was never going to see that bastard drum teacher again. Now washed up at 35, Cal seeks revenge, and his sexy, ex-con girlfriend, Gina, hatches a plan.
Mr. Spitz may still have some family issues to deal with, though: "I only have two or three memories of my mother and father in the same room. The last time they ever talked to each other as far as I know was when I showed up with like holes in my arms from Hollywood." He failed to make it as a screenwriter in the early '90s. "And my mother called my father and said, 'This is your fault; we need to send him to rehab!' And even with the holes in my arms and the detox, I was like, wow, my mom's talking my dad! This must be important."
He hasn't spoken to his father in 10 years, ever since he sent him a copy of How Soon Is Never. ("I guess he objected to the way he was portrayed.")
He said he hasn't ruled out contacting him. He thinks about it. "I don't know why I couldn't just get a beer with the guy. Now it's water under the bridge—any grievances that we had." But "my nature is to hold grudges and be stubborn and dramatic probably to the point that at my age is not wise." He has considered sending his dad a copy of Poseur. "That might be a good ice breaker or something, because he's in it."
(A month after our interview, he called his father and his mother: "I have reconciled with them both and love my parents and feel sorry they have to put up with me.")
Despite not being conventionally handsome, Mr. Spitz has had extraordinary success with women. "It's part of that Serge Gainsbourg thing," he explained. "The funny-looking Jewish guy in a velvet blazer with a beautiful woman." The glamorous journalist and author Lizzy Goodman was his girlfriend for six years. ("I'm in love with her. I would get back together with her in a minute."). They share their two basset hounds three-and-a-half days per week unless one of them is traveling. He said that with women "it's definitely more difficult now post-Elizabeth, because I have no rap, you know—I can't be this character."