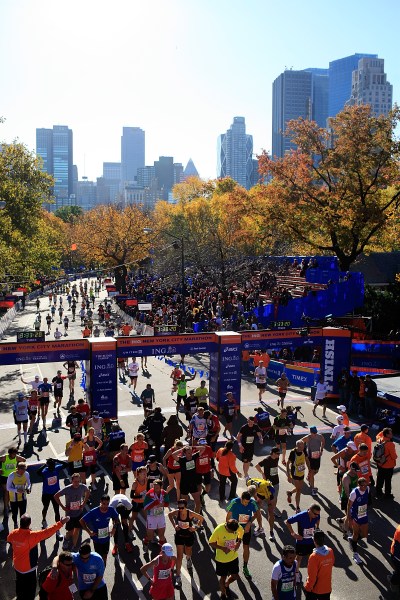 Over the next few days, tens of thousands of runners will head to the Javits Center to pick up their race numbers at the Marathon Health and Fitness Expo. We'll give special wristbands to more than 20,000 2012 runners returning this year after the cancellation following Hurricane Sandy to allow us to thank them personally. The expo also has more than 100 exhibitors from around the world, offering souvenirs, health and medical advice, activities and a whole lot more.
Jacob Javits Center, 655 West 34th Street, 212-216-2000; Thursday-Friday, 10 a.m.-8 p.m.; Saturday, 9 a.m.-5 p.m.; free
I'll welcome our pros—some of the best in the world, including Meb Keflezighi and Buzunesh Deba—and celebrity athletes today. Many are running for some of our 324 charity partners, including Pamela Anderson, fundraising for Haiti relief; entrepreneur Bill Rancic, running with Timex for Fab-U-Wish; and Every Mother Counts founder Christy Turlington Burns, a veteran marathoner.
The late Ted Corbitt, the running world's Jackie Robinson and founding father of our sport in this country, along with marathon legends Bill Rodgers, Frank Shorter and Joan Benoit Samuelson, will be inducted into the NYRR Hall of Fame. Look for the banners representing each that will be raised this week along "champions' row" at the finishing stretch.
And, of course, it's Halloween! No matter how busy Marathon week is, all the moms and dads, myself included, take a quick break. I'll savor the night with my boys, ages 10 and 12. I'm not sure how much more trick-or-treating they'll want Mom and Dad around for!