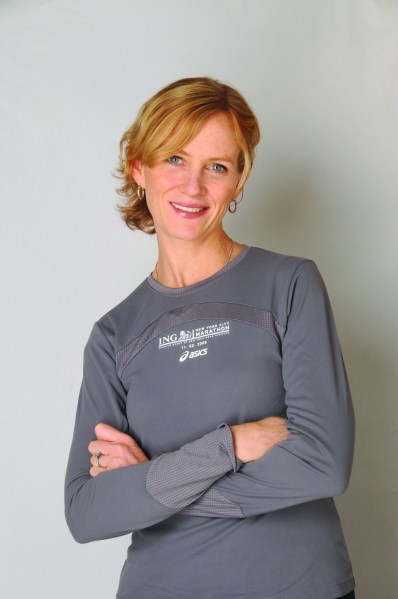 This Sunday, the ING New York City Marathon triumphantly returns to the five boroughs, and Mary Wittenberg, president and CEO of the New York Road Runners, is the woman we have to thank. Here, Ms. Wittenberg takes us behind the scenes of the world's greatest race, from the Javits Center to Central Park, with a list of must-do activities in the days that lie ahead.
Gearing up for the 2013 ING New York City Marathon, and today is all about saying, "Thank you." What's impossible to convey is what a team effort the marathon is. The support of 10,000 volunteers, our dedicated New York Road Runners (NYRR) staff and our city agencies is extraordinary. Crossing the finish line is one of the thrills of a lifetime for runners, and this morning representatives from many of our city agencies will participate in the ceremonial painting of the Blue Line, which traces the 26.2-mile course through all five boroughs. This year, we'll honor victims and first responders of the Boston Marathon bombings by adding a yellow line, representing one of the colors of the Boston Marathon, for that final stretch from Columbus Circle to the finish line.
Before the painting, we'll present the Abebe Bikila Award, named for the legendary Olympic Marathoner, to the Rudin family for their longstanding commitment and contributions to NYC, NYRR and distance running. Lew and Jack Rudin became the first sponsors of the five-borough Marathon in 1976, in honor of their running dad, Samuel. The Rudins have kept up the tradition, helping to make NYRR and the marathon what we are today.