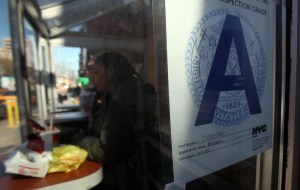 Restaurant owners, Mayor Michael Bloomberg feels your pain–sort of.
Mr. Bloomberg this week bluntly dismissed concerns about the city's controversial restaurant letter-grading system, which critics describe as unnecessarily punitive
"Those that don't want to clean up their kitchen, I know why they're bitching," the mayor quipped, "but I would suggest: don't eat in a restaurant unless they have an 'A.'"
Mr. Bloomberg was speaking at an awards event for the biopharmaceutical industry and appeared to deviate from his prepared remarks in order to tout the city's public health measures, including posting calorie counts in restaurants, banning trans fats and the Department of Health's restaurant-grading system.
"We put in grades in restaurants; it was very controversial. It's still controversial. The restaurants, they get fined, don't like it, they rush to elected officials [saying], 'This is not fair.' But it is also true [that] when we put in the grading of the restaurants, the cases of salmonella at our hospitals went down like a step function," Mr. Bloomberg said.
According to city statistics, 69 percent of city restaurants received 'A' grades during the first year of the program.
View Mr. Bloomberg's comments, via videographer Shimon Gifter, below. (They begin at roughly the 2:45 mark):
[youtube=http://www.youtube.com/watch?v=6vIJRiKbIIY&w=420&h=315]