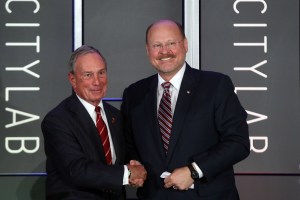 If observers were looking for signs that Mayor Michael Bloomberg is worried about what will happen to the city once he departs Gracie Mansion, he certainly didn't offer any hints today.
For the first time this election season, Mr. Bloomberg appeared on stage with the two leading candidates vying to succeed him: Democrat Bill de Blasio and Republican Joe Lhota. And while the mayor has previously butted heads with both, there were no signs of any negativity this afternoon as he gave generous introductions to both men before speeches in front of the CityLab summit in Lower Manhattan.
"I have said this a thousand times: I have always believed that I hope the next administration will be so successful, even more successful than our administration has been because I love this city and I'm going to live here," said the mayor, who has repeatedly refused to endorse a candidate in the race.
"I have every vested interest, as do all of you here, in helping the next mayor to success in spectacular fashion, no matter who he is," he said.
First up was Mr. Lhota, who reportedly angered Mr. Bloomberg when he called him an "idiot" in the aftermath of Superstorm Sandy. But Mr. Bloomberg offered only praise in his introduction, pointing to Mr. Lhota's work in the Giuliani administration and his tenure as chair of the MTA. "I had the pleasure of working with him directly in that capacity," said Mr. Bloomberg, declaring Mr. Lhota "had the wisdom" to preemptively shut down the subway system before the storm hit.
After Mr. Lhota marched on stage, the two posed for an extended, hand-shaking photo-op–prompting Mr. Bloomberg to jokingly promise a similar pose with Mr. de Blasio, who spent the last four years as one of the biggest thorns in the administration's side.
Nonetheless, Mr. Bloomberg also heaped compliments on the city's public advocate. He noted that Mr. de Blasio grew up outside of Boston, Mass. "like I did, but who I know loves New York City as much as I do," before running through his résumé.
"Over our 12 years working together in government, we haven't always seen eye to eye," he acknowledged, but said the two were "often on the same page" when it came to the city's controversial public health initiatives. "We also found common cause on issues like illegal guns and climate change," he said.
The two candidates also returned the favor. Mr. Lhota began his speech recalling the first time he met Mr. Bloomberg, when he was brought in to teach the media executive about the budget ahead of his 2001 run for Gracie Mansion.
"Three hours in the most beautiful kitchen I have ever seen in my life, sitting at the banquette in the back," Mr. Lhota reminisced. "And I gotta tell you, he was the fastest student I have ever seen in my life on the budget. And he's proved it over the last–almost 12 years now. So congratulations to you and your very, very successful administration."
In a scrum with reporters after the event, Mr. de Blasio also stressed his agreement with the mayor on a host of issues, including public health and the environment, even if he differs "fundamentally" on topics such as stop-and-frisk and income inequality.
"I am a proud progressive. I have an activist view of government. I am a proud Democrat. That does not stop me from being able to find areas of agreement with Michael Bloomberg," Mr. de Blasio said.