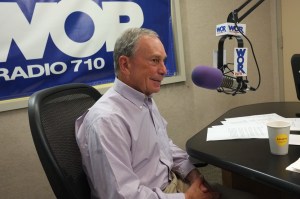 On the topic of those struggling to find affordable housing in his city, Mayor Michael Bloomberg is quick to find the silver lining.
"Somebody said that there's not enough housing. That's a good sign," he argued during his weekly Friday morning radio sit-down with WOR's John Gambling.
Mr. Bloomberg, a billionaire who lives in a multi-million-dollar townhouse on the Upper East Side, said the high demand means the city is on the right track.
"As fast as we build, more people want to live here. Doesn't mean it isn't a problem. But there are no vacancies," he claimed. "And that will bring in investment and people built at all income levels different kinds of housing."
"If you want to have lots of vacancies where everybody could easily find a place, you don't have a good economy, you don't have low crime, you don't have good schools, all these things," he added.
Mr. Bloomberg had been talking about how the city was working in contrast to Washington's gridlock, boasting that "we're getting more done this year probably than in any of the other 12 years."
"It's nothing but booming here" he said, pointing to the construction industry. "When I march by, on a parade, a construction site, I get a lot of waves. Construction workers should be very happy. Developers should be very happy."
Mr. Bloomberg has drawn criticism in the past for making remarks that seemed a tad tone-deaf, including recently announcing that it would be a "godsend" if all the world's billionaires moved to the city when asked about the city's growing income gap and poverty rate.