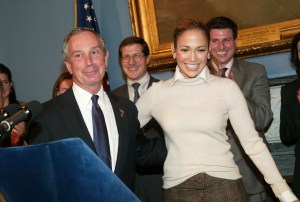 ¡Viva El Bloombito!
Mayor Michael Bloomberg, who famously–or infamously, perhaps–summarizes his press conferences in both English and Spanish, is determined to continue improving upon his language skills even after his final term ends.
In a Forbes magazine interview published this morning, Mr. Bloomberg was asked about what he'll be doing come January, when his 12 years in City Hall come to a close. In addition to planning a vacation to Hawaii and New Zealand–he claims it'll be his first vacation in 12 years–the mayor said he'd be doubling down on his Spanish skills.
"Oh, yeah," he began after listing everything else he planned to do, "I'm also going to work on my Spanish. I am adamant that I want to speak Spanish like a native."
Mr. Bloomberg's Spanish is often a subject of fascination and one particularly prominent Twitter account, "@ElBloombito" has been politely skewering his command of the language since mocking his performance at Hurricane Irene press conferences in 2011.
The Bloombito account, however, is an exaggeration, according to some observers. "The mayor's Spanish is a lot better than a lot of people really think it is, and the funny thing is that the people who criticize it the most are exactly the ones who don't speak a second language," NY1's Juan Manuel Benítez said then.
To summarize for our Spanish-speaking New Yorkers: Alcalde Bloomberg continuará sus aventuras en español.