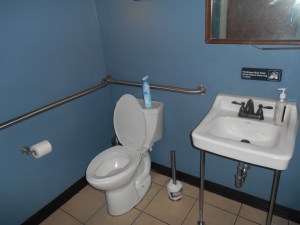 Congressman Michael Grimm is rejecting reports suggesting he had sex in the bathroom of a Brooklyn wine bar right before the Washington shutdown began two weeks ago.
Mr. Grimm reportedly spent an unusually long time in the bathroom of The Owl's Head in Bay Ridge–pegged by the New York Post at 17 minutes–with an unidentified woman. But Mr. Grimm, who is single, flat-out denied the accusation that anything inappropriate occurred.
"This never happened and I will not dignify this absurd distortion of the facts with a response, except to say that this is nothing more than a typical Democrat-led smear campaign," the Republican said in a statement released tonight.
A Politicker reporter was in the neighborhood Tuesday and dropped by the chic, hipster-friendly bar in question. But owner John Avelutto repeatedly refused to address the allegations. ("I think it was pretty f–ing obvious what was going on in there,'' a Post source insisted.)
"I don't know anything about that," Mr. Avelutto said. "I wasn't here that night. I've never seen him here before and I'd rather talk about wine than what he might or might not have done in the bathroom."
The gender-neutral bathroom where the alleged romp took place is small and handicap accessible with blue walls.
Additional reporting by Colin Campbell.