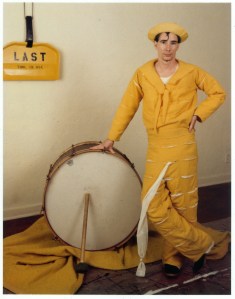 In 1995, the Los Angeles-based artist Mike Kelley, who passed away last year, created Educational Complex, a piece that reconstructs, in architect's foam board, a model of all the schools he attended, combining them to form one giant, city-size imaginary facility. He hated school, so it is fitting that his posthumous retrospective should be a subversion of all 40,000 square feet of exhibition space at PS1 Contemporary Art Center, a former public school in Queens. The vast show, curated by the Stedelijk Museum's Ann Goldstein, consists of some 270 howling, scatological, and often poignant and powerful works.
Start with the third floor, which houses Kelley's earliest work. In one section, his early sculptural objects are laid out on a stage. They are reminiscent of the German artist Franz West's Passtuck sculptures from the same period, awkward spatialized geometries meant to activate a handler's psychological neuroses. At PS1, they are presented as though they are part of a punk band's rehearsal space. (In fact, Kelley was a member of post-punk bands—Destroy All Monsters, then the Poetics—while he was making them.) Photographs document performances in which a thin, young, bug-eyed Kelley mugs sexlessly for the camera; in videos, he shuffles various props about. Geometric wooden birdhouses propose more existential dilemmas, like Birdhouse for a Bird that is Near and a Bird that is Far, 1978. Kelley considered these sculptures part of his early performance-related work, perhaps because their physical constraints would force birds, as performers, into making "choices" about actions inflected or freighted by the titles and odd geometries of the objects themselves.
On the same floor, Black Out (2001), an homage to his hometown of Detroit, makes the show's underlying psychological mechanism apparent. Kelley's imagination ran on pure Freudian fuel: His art is the art of repression. Photographs in Black Out indiscriminately darken and obscure banal subjects. The effect is ominous, as if some terrible abuse happened once and we can't quite remember what it was—or perhaps the trauma is simply living.
The most terrifying work in the show is Rose Hobart II, 2006. Here, the viewer, required to crawl down a long, narrow black tube to access a peephole, becomes the performing bird. Through the peephole, you glimpse the famous Porky's locker room shower scene slowed down to a twitching stop-motion. It's not so much what you see as how you see it that gets you—claustrophobic, I left the piece sweating.
Much of Kelley's most recognizable work trades in post-pop reappropriations. The famous 1991 Ahhh … Youth, seven mug shots of worn stuffed animals (and a self-portrait) that graced the cover of Sonic Youth's 1992 album, Dirty, is here, as are the dangling sculptures that compose Deodorized Central Mass with Satellites (1991–99). Their colors echo high Minimalism, but these sculptures are made of well-worn childhood toys. The stuffed animal tails hang down, at comical odds with the traditional purity of sculptural forms. In Lumpenprole and Ageistprop (1991), a room-size, drab-colored striped knit blanket on the floor covers a series of mysterious forms: Do these lumps represent repressed childhood memories? The subjugated working class? The 1990 photograph Manipulating Mass-Produced Idealized Objects shows a naked woman and man in a dingy basement rec room. She's masturbating against one stuffed animal, and he's wiping his soiled ass with others.
Is it because Kelley's vernacular strives—or dives—for the lowest of low culture and presents so much of his lower-middle-class childhood that the high production quality of his last work, Kandors (2011), seems off? Those sculptures imagine little glowing models of Krypton, Superman's home planet—made in resin with an expensive, big-money-value finish. They look like cartoonish Julian Opie versions of Robert Smithson sculptures. Their science-fiction seems lavish, their tiered sheen high culture not low. Of course, Kelley's is Big Art, but it rarely lets us know it. The vast artwork Day is Done, a high school music theater show as art installation from 2005, better straddled the high-art-being-made-about-low-culture-phenomena problem that plagued Kelley and his peers as they found success later in life.
Kelley died at age 57, after 35 years of making art. The impact of his suicide on artists was so resounding not least because he was seen as a figure publicly engaged in a death battle with the dominant culture of our time. Resistance to authority was his hallmark, and as such his art speaks to what it meant to be a person in the last half of the 20th century. It is an art of how subcultures, and cults, could function as a means of resistance to the hegemonic norm. He found beauty in outsiderness, and banality in beauty. For his insistence on making art with the popular stuff of our age, he was our contemporary Baudelaire. Much of the work at PS1 is being shown in New York for the first time. You may not have seen it before, but you will nevertheless recognize its vast influence. (Through Feb. 2, 2014)