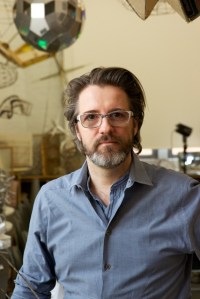 Olafur Eliasson will be honored with the 2014 Eugene McDermott Award in the Arts at MIT, which "recognizes rising, innovative talents" and comes with a $100,000 prize, as well as a short residency at the school. The school made the announcement today, praising the Icelandic polymath for his "ambitious public art projects, large-scale installations, architectural pavilions, major art exhibitions, spatial experiments, sensory experiences and a distinctive art and social business enterprise—Little Sun, a solar powered lamp that is 'a work of art that works in life.'" Past recipients include Agnes Denes (in 1990), Jeff Wall (1995), Isaac Julien (2001) and Santiago Calatrava (2005).
Mr. Eliasson's statement to press was very strong:
"Through abstraction, we shape the world. Through art, we translate thoughts, intuitions, feelings and intentions into actions that transform reality. It is a great honor for me to receive the Eugene McDermott Award in the Arts at MIT, an institution with a long tradition of turning thinking into doing."
He will accept the award at a gala on March 13, 2014.