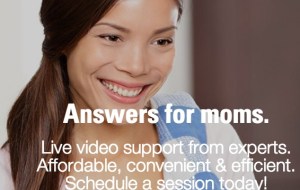 When it comes to child-rearing advice there's a new sheriff in town, and its name is "the Internet."
More specifically it's a startup called MommyCoach, because shhh your father is busy right now. Despite the female-centric name, though, the site was founded by CEO Christophe Garnier, who is, you guessed it, a guy. What are the odds!
MommyCoach will help its users "learn from experts on a range of topics related to their new lives, sharing not only tested parenting advice, but also information on subjects like food and nutrition, health and fitness, life and work, and more," TechCrunch reports.
On the bright side, MommyCoach could eradicate your need to call your mom, dad, brother, sister-in-law, overbearing aunt or former kindergarten teacher for child-rearing advice. So if your attitude toward interacting with family members skews toward "meh," this startup was practically made for you.
The downside: each coach takes 30 to 60 minutes to dole out her advice via video chat, TechCrunch reports. And the advice sessions start at $20 a pop, so again, you have to feel really, really ambivalent about your family–and enjoy being told what to do by strangers.
There doesn't appear to be an online parenting advice front-runner at the moment. But as TechCrunch points out, moms are busy as hell already so they may not want to sit through a sitcom-length advice session. Still, if MommyCoach means fewer people will be turning to Yahoo Answers to raise their children, that's good news for all of us.