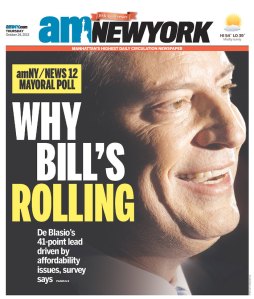 Headline of the Day: "A More Nuanced de Blasio Emerges."
The Nation is already getting ready to be disappointed by Bill de Blasio: "It's premature to be disappointed in de Blasio—I'd be disappointed if he didn't adjust and evolve enough to lead the whole city, not just the people of Nation-nation. But I do detect in him a need to please too many sides."
A new amNewYork-News 12 poll, which has Mr. de Blasio dominating the race, found a related opinion in the city's electorate. "Despite the fact that New Yorkers like him so much, they have concerns that he won't be able to get done what he has promised," pollster Mike Berland explained.
The Horse and Carriage Association and the union representing carriage drivers rejected Mr. de Blasio's plan to replace their carriages with antique replica cars. "It's about the experience of having a live animal in front of you. That's what's made this a successful business," the association's spokesman, Ian McKeever, argued.
On Road to City Hall last night, Rev. Al Sharpton said Joe Lhota's new television spot is "just misleading." "I think that Lhota should have a campaign more responsible than that," Mr. Sharpton added. "Crown Heights was not about a crime; it was violence, it was wrong, but that was not street crime."
New York Post columnist Seth Lipsky also claimed "there's talk" that Senator Chuck Schumer "has been warning that de Blasio is making a mistake with his plan to raise taxes on the wealthy here in the city," including at a fund-raising event last Thursday and "and elsewhere around town." Mr. Schumer's office refused to confirm the remark.
Gatemouth analyzed the results for the Democratic public advocate runoff, won by Councilwoman Tish James: "The failure of the Squadron operation is amplified by the fact that in 57 of the City's 65 Assembly Districts, Tish James managed to retain at least 50% of her initial primary vote in the runoff. By contrast, Squadron managed this feat in only 22."
The New York Times, like the Daily News before it, offered a rather reluctant endorsement to Ken Thompson for Brooklyn district attorney. Mr. Thompson, they wrote, "is not an ideal successor. He lacks significant managerial experience, and we were not reassured by his publicity-oriented approach to representing Nafissatou Diallo."
And here's a recap from Law & Order SVU's take on the Anthony Weiner scandal. View the full episode below:
[hulu id=gey2heiov301ytjo5iqfxg width=512]