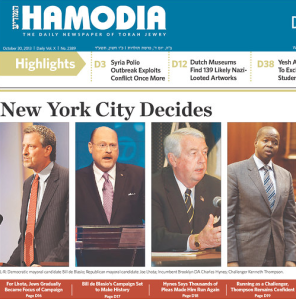 Headline of the Day: "Executive Chamber bathrooms will be free once more!"
Hamodia profiled the state of Joe Lhota's campaign, which has heavily focused on the Orthodox Jewish community. Still, the paper notes Mr. Lhota is not an ideal fit: "Attempting to peel away some votes on the fringes of the opposing party, Lhota in an ad declared himself as supportive of immoral values as de Blasio, and has attended events of that community."
The publication also profiled Brooklyn district attorney rivals Ken Thompson and Joe Hynes. For his part, Mr. Hynes declared Mr. Thompson "hasn't got a connection to the broad Jewish community as I have," while Mr. Thompson noted his personal and professional relations with the community.
Bill de Blasio's government office contests a New York Post story where a judge is quoted saying Mr. de Blasio wants the courts to control the NYPD. "Judge Cabranes was injecting some humor and, as those in the room could tell, made a sarcastic joke," de Blasio spokesman Wiley Norvell told Politicker last night. "Regrettably, not everyone has a sense of humor."
And New York Times writer Thomas Edsall looked at primary election returns and found that while Mr. de Blasio did well among those making over $100,000 a year, he fared far worse among those making over $200,000.