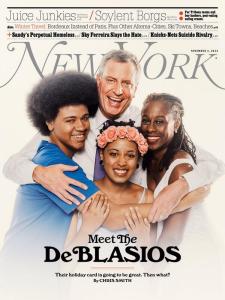 Headline of the Day: "Back after sLho start."
New York looked into how Bill de Blasio will grapple with the challenges of governing New York City. "We want him to be Elizabeth Warren and not Barack Obama or Andrew Cuomo," a labor leader close to Mr. de Blasio told the magazine. "I think that's who he really wants to be. But I really don't know."
The feature further noted Mr. de Blasio's political maneuvering skills: "De Blasio told three different council members that they wouldn't be the decisive swing vote—that each would merely be a little insurance margin. The three agreed, only to be surprised when they arrived in a meeting room and counted the minimum number of plotters."
Yesterday, Mr. de Blasio visited Breezy Point to discuss the region's ongoing recovery from Hurricane Sandy. He also used the opportunity to have a private sit-down with a local newspaper, The Wave, which has been hammering him lately; other reporters at the event had to wait outside.
While the New York Post profiled Joe Lhota. Here's part of the story: "Melt 2 tablespoons butter in a heavy-bottomed saucepan. Stir in 2 tablespoons flour and cook, stirring constantly, until the paste cooks and bubbles a bit, but don't let it brown — about 2 minutes. Add the 1 ¹/₄ cups milk, heated, continuing to stir as the sauce thickens."
Yet another poll shows Mr. de Blasio ahead by more than 40 points over Mr. Lhota. The topline numbers can be viewed here and the cross-tabs here. "Both candidates have become more known over the last few weeks, however, almost half of voters now have an unfavorable view of Lhota," noted Siena pollster Steve Greenberg.
The State Legislature seems to be acting like they have something to hide from Gov. Andrew Cuomo's anti-corruption commission: "A second source with knowledge of the developing legal strategy likened the tactics to 'McCarthyism' while a third plugged-in source questioned 'how do you legislate under threats?'"
And here's video of Assemblyman Dov Hikind slamming District Attorney Joe Hynes over his latest controversies at a press conference yesterday, via blogger Jacob Kornbluh:
[youtube=http://www.youtube.com/watch?v=rNyYClmnVNw&w=420&h=315]