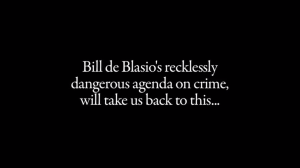 Headline of the Day: "Mayor Bloomberg Forced Us to Photoshop Him As a Woman Wearing High Heels."
Joe Lhota's campaign was forced to scramble after Newsday and other publications revealed his latest television spot used copyrighted photography without purchasing it beforehand. "I'm very upset that somebody would use it for a political campaign," said one photographer.
But the New York Post has Mr. Lhota's back on the controversial spot: "In sum, Lhota's ad lays out the risks if this city elects a mayor who has made America's most successful police force one of his targets. And the louder Lhota's critics howl, the more you know he's got it right."
Four third-party mayoral candidates joined Road to City Hall last night: the Reform Party's Carl Person, Green Party's Anthony Gronowicz, School Choice Party's Erick Salgado and Affordable Tomorrow's Joseph Melaragno. "Bill de Blasio is talking a 'two tale of two cities.' My question is what are the two tales he'll be serving?" Mr. Salgado lamented.
Anthony Weiner has officially assumed his role as national pundit. Mr. Weiner began his appearance on CNN's Piers Morgan Live by boasting he'd never experienced a shutdown in Congress. "I was the glue that held the place together more or less," he joked. Notably, no reference was made to Mr. Weiner's campaign or his sexting scandal.
And comedian Stephen Colbert cracked a number of one-liners at local pols last night. "New York City is the only place in the world where the lesbian candidate is too conservative," Mr. Colbert said of former mayoral candidate Christine Quinn. To NYPD commissioner Ray Kelly, he quipped, ""Are you here alone, or did you bring the whole biker gang?""