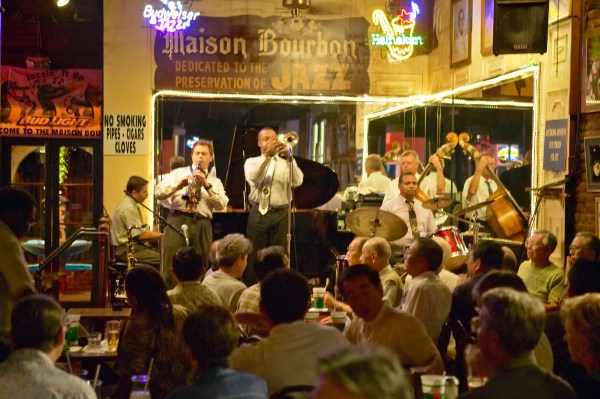 Hello! Good to see you. You really should have dressed. Ah well, too late now. This month's destination… New Orleans.
New Orleans is in Louisiana, which is in the USA. The south part, I believe. I'm talking below Brooklyn, even. (Don't quote me on this. It was all a blur.) It's the home of Mardi Gras, which, if you don't know, is like Mecca for inebriated sops, ball-capped collegians and terrible people the world over.
I arrived in the French Quarter, where they invented the Sazerac, and frequented the bars along Canal Street. I noticed a lot of those musicians where they are all walking and carrying shiny horns? They never seem to get where they're going, which is a shame since that place is probably not here. Note: just because something is shiny and brassy doesn't mean it's worth blowing into.
New Orleans is also known as the birthplace of jazz, and somehow, this is not something they hide. This seems akin to a woman bragging she's the mother of a noted psychopath, or a scientist, the creator of a terrible plague.
The city is home to "Jazz Fest" and according to signs on Bourbon Street many clubs offered live jazz. Played in front of you. For you to look at, right out in the open. So now we're up to two senses being assaulted. Do southern accents improve an experience for you? You're in luck.
I decided to gamble (with more than my reputation, in jeopardy since a waitress patted me on the back, like one would a peer) at the area's riverboat casinos. Louisiana casinos differ from regular casinos in that they float and are similar in that they attract the absolute worst elements of humanity. These people often arrive looking for fun. Ridiculous. You don't look for fun: it's there or it isn't. You don't force it like the dented hood of one of your automobiles.
I imagined dashing types sporting white suits, brandishing derringers, glancing at pocket watches while belles looked on. Perhaps even a top hat would make an appearance. Maybe it would be doffed, while its owner said the word "indubitably" for some unknown yet charming reason.
Well, that guy was there, but he was dressed in torn dungarees and a t-shirt featuring a Looney Tunes character in a sporting jersey. Time to go!
I'll say that New Orleans' appeal is helped by its proximity to the rest of Louisiana, the way a discarded cigarette butt would look good by comparison when placed near an alligator's corpse. In short, New Orleans is a beautiful city ruined by the blanket of slobs descending upon it at all times. And they could ease up on the jazz.