My fiancé and I are really good at conquering problems as a team. For instance, this morning I woke up with what looked like soy sauce splatters all over my left hand. I tried to wash it off, but all it did was start to tingle. I was very upset to find that, according to several websites, I had cancer. I sent a text to my newly betrothed with a picture of my hand and the caption "WHAT THE F*CK! WHAT THE F*CK! WHAT THE F*CK!"
He called in the middle of my third WTF and told me not to worry, it probably wasn't skin cancer and I should try taking a shower, not panic, and—here I quote—"try using a Brillo pad on it."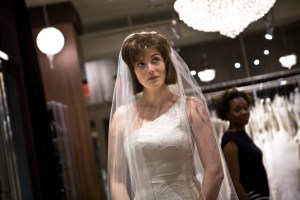 Turns out it wasn't such a big deal after all. With some stronger hand soap, it went away. In retrospect, it was probably actual soy sauce—we did have Chinese food last night.
If only he could help me choose a wedding dress. For myriad reasons, most of them old and superstition-based, the person you are going to spend the rest of your life with isn't allowed to see you in your gown until it's too late to return it.
So far, this has been the most annoying part of wedding planning: Not being able to show my dress to my fiancé, or in this paper, because—as my editors have pointed out—he might see it. So I'm unable to check with him, or with you, readers, to ask if maybe it's too short or slit too high up, or is it a bad sign that no one on the Web seems to have heard of this dress except the person who wore it at the Bridal Runway show?
Despite logging hours at Saks, I ultimately found the dress at Bridal Reflections, a Fifth Avenue boutique that introduced me to the horrors of a "trunk show."
Not being that up to date on fashion, I had no idea what a trunk show was, but now I know it's when a store gets a lot of a certain designer and then you have to try on every single piece—even if that's 100 dresses and every one has at least 15 pounds of Swarovski crystals on it.
After a morning spent trying on dresses at Saks, my bridezilla levels were depleted by the time I struggled into my eighth Simone Carvalli gown, all of which featured dramatic trains, pleated bustles, and enough "intricate crystal beading" to support a third-world economy (if only my back would support the weight.) They were beautiful, for someone else. I could probably have saved myself hours by putting my foot down after the first totally not-right dress, but I'd been told you learn more about your bridal style from what you hate than what you love.
By the end of the day, I'd be an expert.