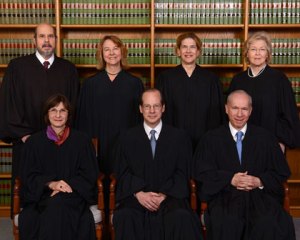 The state Supreme Court has agreed to take up the gay marriage case in New Jersey.
The high court said today it also will take over consideration of the ongoing pursuit of a stay of the lower court ruling.
The opposing sides will file briefs in November, and the court will hear oral arguments either on Jan. 6 or 7 of next year.
The high court also decided to take jurisdiction over the motion to stay Judge Mary Jacobson's order to allow gay marriage starting Oct. 21.
Jacobson ruled she would not postpone her order of last month, finding the state would suffer no real harm if marriages were allowed, but the couples who want to marry would. The state had gone to appellate court hoping to stay her ruling.
Thirteen states permit same-sex marriage, with New Jersey and Pennsylvania the only Northeast states not to do so.
Last year, Gov. Chris Christie vetoed a same-sex marriage bill, but Senate Democrats said recently they will convene a session to override the veto once they are sure they have enough votes. Democrats would need three no votes to switch to yes.
Same-sex marriage advocates went to court this year after the U.S. Supreme Court ruled against the Defense of Marriage Act, arguing that in light of the national decision, New Jersey's civil union law was a violation of residents' rights.
Jacobson agreed and on Sept. 27 ordered the state to start issuing licenses on Oct. 21.