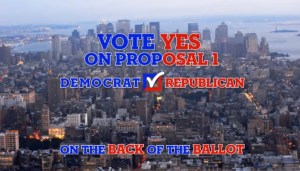 Less than a week before New Yorkers will vote on whether to legalize the opening of select casinos in New York State, a large coalition with ties to the governor is blasting out two television ads supporting the referendum.
Both the pro and anti-casino sides will hold dueling press conferences this afternoon, but expensive new television ads keep emerging that urge voters to back the measure, a sign that casino supporters have an upper hand.
In their new ads, NY Jobs Now, the pro-casino group that includes labor and businesses leaders, trumpets the support of editorial boards across the state, including one from The Observer last week.
"A new agreement is making new paying gaming jobs a reality in New York," one narrator says, touting the economic benefits that wold result from the measure. "Workers are getting a raise. That's why Democrats and Republicans are urging New Yorkers to vote yes on proposal one."
Proposition One, a centerpiece of Gov. Andrew Cuomo's economic development agenda, is being opposed by a somewhat strange coalition of the state's Conservative Party, religious leaders and several liberal Democrats, including State Senator Liz Krueger. In addition to decrying the potential negative economic and social impacts of casinos on local communities, the opponents argue the proposition's sunny language is deceiving.
View both pro-casino ads below:
http://youtu.be/cry36iom0KI