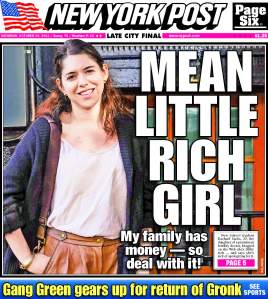 Both the Daily News and the New York Post rediscovered Thought Catalog this weekend after a rich girl wrote a post about being unapologetically rich.
"A local college student penned a sophomoric essay online entitled 'I'm not going to pretend that I'm poor to be accepted by you' — and it's touched off a firestorm on the Web," the Post wrote in a Saturday cover story.
In a follow-up story, the tabloid sent reporters to photograph and video rich girl Rachael Sacks and once again labeled her story in the millennial essay "web-zine"  "sophomoric."
The Daily News took a slightly more restrained approach by not putting Ms. Sacks on the cover. The News also noted that the New School student does have some supporters (one likened Ms. Sacks to "the Chelsea Handler of the internet") and that her previous post for Thought Catalog was called "Confession: I'm a Chronic Female Masturbator."
But fortunately for the fortunate Ms. Sacks, she has an outlet where she can continue to catalog all of her, um, thoughts.
"I've been criticized by the media for taking this all in stride and not being more apologetic. What else am I supposed to do? Cry? Be a pussy and flip-flop on my own views? Beg for the public's forgiveness? These are things I would never do," she wrote in a post today, reflecting on the experience of being a tabloid sensation.
After all, why beg for forgiveness when you can stretch your 15 minutes of tabloid fame into a second week?