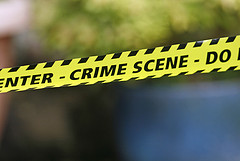 Congratulations on your basic human decency, New York! We've gone one full week without killing one another.
According to a new report from the Mayor's Office, there were no murders reported across the five boroughs between last Monday, October 7th, and Sunday, October 13th. It was the first murder-less week in the city since January.
That's right – zero, zip, zilch, nada, no murders! This also marks the lowest number of shootings and the lowest number of murders "at any time since comparable records were kept." The City has seen a 26.0 percent decrease in murders overall – 256 so far this year, down from 346 last year.
Although over half of all murders this year were committed with firearms (57.8 percent or 148 of those 256 murders), that number is down by 28.8 percent from last year. And we've seen a decrease in total number of shootings as well – a whole 23.2 percent fewer than 2012!
Way to go, guys. We did it. Put that gun away.