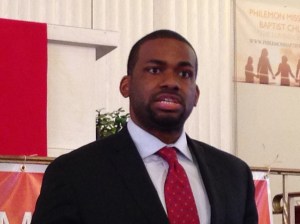 By MARK J. BONAMO PolitickerNJ.com
NEWARK – At the Philemon Missionary Baptist Church deep in the city's South Ward, mayoral candidate Shavar Jeffries told a crowd of close to 100 residents on Wednesday that in Newark's war on crime, prayer is not enough.
Jeffries fired his opening public safety platform salvo in a neighborhood where gun shots regularly ring out.
"The streets of the South Ward are a war zone. The ward suffers more murders than any other ward in this city," said Jeffries, a South Ward resident, noting that 35 people have been murdered in the neighborhood so far in 2013. "I personally understand the toll, emotionally and psychologically, of gun violence – my mother was murdered when I was a young child."
Moving from his personal story to his policy platform, Jeffries outlined his public safety plan, which identifies 22 initiatives centered on prevention, enforcement and re-entry programs. He stated that he would launch a crime-prevention data and intelligence technology center designed to anticipate criminal activity, a law enforcement approach Jeffries said would be less "reactive" than previous efforts, as well as spark a multi-law enforcement agency effort targeting gang activity in Newark.
Jeffries also touted his law enforcement experience, including his service on the state level as Assistant Attorney General during Gov. Jon Corzine's administration.
"I am the only candidate for mayor not only with a background in law enforcement, but also with an actual track record of proven results when it comes to this issue," said Jeffries, who noted that he oversaw state law enforcement initiatives that led to a 26 percent reduction in recidivism for ex-offenders, doubled the graduation rate for juvenile offenders and reduced violent crime throughout New Jersey three years in a row. "We will not see different results if the city's next mayor is unproven, or inexperienced, in dealing with matters related to our safety. We won't shower our residents with fuzzy stats. We will not rely on statistics alone. We will rely on what you tell us."
Although Jeffries has legitimate law enforcement experience, he was up to this point in the campaign relatively silent about the crime issue: Newark council members and mayoral race rivals Anibal Ramos and Ras Baraka already revealed their public safety plans in recent weeks.
When asked directly how his public safety plan contrasts with those released by Ramos and Baraka, Jeffries made up for lost time.
"The most importance difference is that I've done this," Jeffries said. "On the enforcement side, the really smart use of data [in my plan] in a predictive and forecasting way is something very different than what I'm hearing from my opponents.
"You are not going to get a result if we have people learning on the job," he added. "If I got on an airplane and the pilot got on the intercom and said, 'This is my first time flying the plane, but sit tight, everything will be O.K., I'm getting off that plane."
Ramos campaign spokesman Bruno Tedeschi countered that Jeffries is the candidate not yet ready to run the state's largest city.
"Shavar Jeffries just made the case as to why he isn't ready to be mayor. He has never worked in city government, and using his own logic, does not have the necessary experience to be mayor. Newark is just too big for on-the-job training," Tedeschi said. "After voters read all three plans, we are confident they will come to the conclusion that the Ramos plan offers the most effective solutions for making Newark safer."
The Baraka campaign declined comment.
After Jeffries announced his plan, Central Ward resident Robert Harrison expressed hope that Jeffries' proposed crime prevention efforts will pay off.
"When we grew up in places like the Prince Street projects and Howard Street, the South Ward was our suburbs," Harrison said. "It had the trees and the backyards. We are terribly shocked by the murders going down."