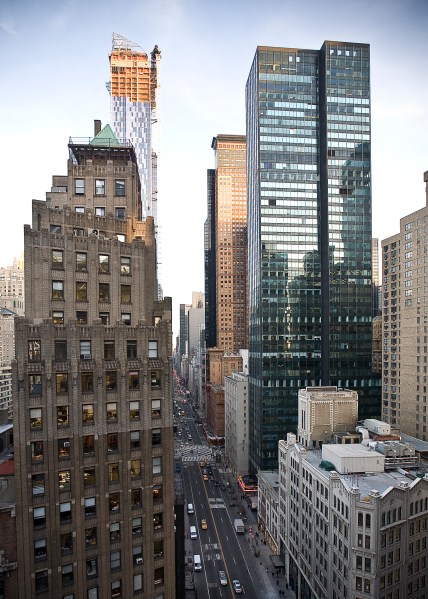 At 6:30 a.m., West 58th Street is a hushed world, still more night than day in the predawn blue of an early fall morning. The occasional runner treads by en route to Central Park, but, for the most part, the city that never sleeps is, in fact, asleep, a slumbering population that once included Joel and Sherri Maxman.
The Maxmans live at 152 West 58th Street, a nine-story co-op that would be utterly unremarkable were it not for One57, one of the tallest buildings in North America and among the most luxurious condos in the world, rising within spitting distance of its backside.
These days, the Maxmans and the rest of the building are early risers whether they like it or not, awake as soon as the hoist begins its creaking ascent up the exterior of the 1,004-foot skyscraper at 6:30 or 6:40 or 6:45 a.m., its journey punctuated by the clang of counterweights at the top. Elsewhere in the city, construction is restricted to waking hours, but One57's developer, Extell, has exemptions that allow work to start in the early morning and continue into the evening, seven days per week.
"I'm not against development. I'm not trying to stop people from building what they're entitled to build, but it's a quality-of-life issue. Every morning, we get jolted out of our sleep," Mr. Maxman said. "Why should they get variances to start at 6:30 when everyone else starts at 7?"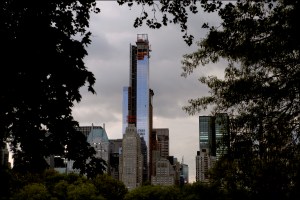 But even as the Maxmans are, at this point, grudgingly resigned to One57, they and a growing of number of their neighbors along the 57th Street corridor have become increasingly angry at its developer. They say that Extell has shown little regard for the people who live in the neighborhood that it's remaking at great profit, fostering deep resentment that has burbled to the surface as the company moves to begin construction on an even taller skyscraper a block west at 217 West 57th Street. (Extell also owns another site at 16-18 West 57th.)
It's not just the all-hours construction: There's also One57's tax break, Extell's plan to cantilever its new tower over a landmark, and a crane maneuver at One57 this spring that saved Extell considerable time and money but required the day-long evacuation of several residential buildings. Two weeks ago, the crane inconvenienced residents again, when a minor malfunction shut down 57th Street for several hours.
The tension brewing on 57th Street illuminates many of the issues that New Yorkers are grappling with at the end of an administration that championed luxury condo development as an unassailable good. Has Michael Bloomberg balanced the need for development with the needs of the city as a whole? Do developers have any obligation to the neighborhoods where they build? Does being unpopular hurt a developer whose clientele is drawn from an international elite who only call New York home for a few weeks per year, if that?
By the time that Community Board 5 (of which Mr. Maxman is a member) took up Extell's request to cantilever its new skyscraper over the landmarked Art Students League, the developer had very little good will left to exhaust. The board railed against Extell, its hubris and the sudden rash of super-skinny skyscrapers that will soon line 57th Street like so many vacant-eyed models. "Safety deposit boxes in the sky," as one woman put it. After a heated debate, they rejected the proposal to cantilever, sending a message to Extell, to the Landmarks Preservation Commission (which has the final say; the community board's role is strictly advisory) and to the many other developers planning to make fortunes on the avenue: You need to be a good neighbor if you want to build here.
Trouble is, that isn't entirely true.
***
Community Board 5 has a reputation for being very friendly to development. In fact, just a month before, the board approved JDS's super-skinny 1,350-foot SHoP-designed tower, which will not only be built on part of a landmarked site—that of the Steinway building at 111 West 57th Street—but involve demolishing a rear building addition.
JDS's tower, which has since won Landmarks approval, will pay for extensive interior renovations to the Steinway Building; the developer also backed its interior landmarking and will create a music performance space for the community in perpetuity.
"It was the kind of project we could really get behind. JDS just presented their project to us with such passion. They really wanted to give back to the community," said community board member Karen Pedrazzi, who does not say the same about Extell. "I don't think Extell has been a good neighbor."
While JDS Managing Partner Michael Stern has unusual facility when it comes to winning allies, the same cannot be said of Extell President and founder Gary Barnett. While he clearly saw some benefit in wooing the community—he took the somewhat unusual step of actually attending the board meeting to speak on the project's behalf along with a sizeable claque of consultants and lawyers—he did not apologize for the most recent crane incident. Nor did he present a particularly compelling case for the tower.
"I know that there's a big issue with the height of tall buildings being built around Central Park, but I feel like this is the wrong building to talk about this," he began, describing the tower, which will be taller than the Empire State Building, as "really great" and "a very important building that will be the home of Nordstrom."
The Extell and Nordstom representatives who spoke on the tower's behalf made a point of emphasizing that Extell didn't need the community's approval to build the tower at all. Like almost all of the recent development along 57th Street, the project is as-of-right, meaning that it is allowed within the zoning code and does not have to go through the city's onerous Uniform Land Use Review Procedure (ULURP), which requires environmental impact statements, community board review and borough president, City Planning Commission and City Council approvals.
The only reason Extell had to come before the community at all, they stressed, was because they wanted to cantilever over a landmark. Thus, the community should consider only the cantilever, which they spoke of as a boon that would bring the tower's height down from the 1,550 feet that they filed to build with the Department of Buildings to the low 1,400s.
"If we take away the cantilever, it's going right back up," Mr. Barnett told The Observer in an interview the following week. "That's why this is counterproductive. It's not about the actual merits of the cantilever, which I think everyone agrees makes sense. It was really about frustration with tall buildings, more buildings and Extell history."
The only person who gave what might be called a spirited defense of the project was the executive director of the Art Students League. However, given that the league stands to gain an additional $25 million if Extell cantilevers over its building (Extell already paid the league $23.5 million for its air rights), the persuasive effect of his endorsement was limited.
But while Mr. Barnett may have come off as cavalier, it was true that he could build his tower, if not the cantilever, without any community approval whatsoever. He selected a site in an area where zoning does not limit height and amassed the necessary air rights to build from neighboring buildings.
A master at assembling air rights, Mr. Barnett builds almost all of his projects as-of-right. While many of the city's other mega developers, like Related and Forest City Ratner, are known for the city commissions they seek out, trying to reap huge returns by negotiating highly favorable deals to redevelop formerly industrial areas like Hudson Yards and Atlantic Yards, Extell has largely focused on projects that take full advantage of what is already permitted by the zoning code. In other words, Mr. Barnett has sought his competitive advantage not in sweet-talking the public but in assembling sites that allow him to operate with very little community interference.
This has not always endeared Extell to the community. "You don't get your foot in the door buying air rights and then just clobber everything around you," chided board member Renee Cafaro.
Her colleague Joyce Matz was harsher: "It's just a silly gluttonous building. I say gluttonous, because it wants more than it should have. It wants to gobble up everything around it," she raged. "People have called it an anchor. Well, it's an anchor that's going to drown the block."
Their complaints ultimately mattered little. On Tuesday, the Landmarks Preservation Commission approved Extell's cantilever application, of six to one.
***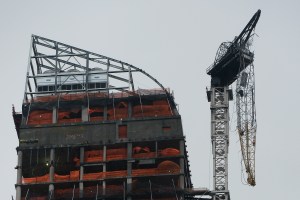 It is not surprising that Mr. Barnett should prefer as-of-right development to ULURP review. 
"Extell is not unique in this," said Ross F. Moskowitz, an attorney who specializes in land use law at Stroock & Stroock & and Lavan. "The big benefit for a developer doing as-of-right is certainty. The risk of going through ULURP is time and certainty—there's no deadline for the environmental review that you need to finish before the process even begins. At least once you start ULURP, there's an end in sight."
When it comes to as-of-right, there is also very little a dissatisfied community can do to halt a project that is already underway, besides hiring consultants to make sure that it follows all laws. And of course, it can pressure city planners to make sure that such a project never happens again.
This is precisely what happened after Extell built its twin Ariel towers, which loom over the Upper West Side, flanking Broadway on either side of 99th Street. "Two of the ugliest excrescences I've ever seen," as one of their detractors told The New York Times. Ugly excrescences they may be, but loom they always will, given that after their construction the community board pushed for zoning changes that restricted building heights and limited the transfer of air rights.
Ironically, by forbidding any future competitors, the community inadvertently rewarded Extell for its brazenness. A popular local conspiracy theory is that this was Extell's intent all along—to use the towers as a calculated provocation to protect its development from competition.
Neither excessively gregarious nor deliciously hateable, Mr. Barnett, whom New York magazine once branded "the anti-Trump," seems equally averse to courting affection or controversy. Whereas many developers cultivate their public personas as a complement to their lifestyle brands, Mr. Barnett's private life has little in common with his developments. He makes his home in Queens, letting his buildings stand in the spotlight for him.
To him, the Ariel towers are a perfect example of Extell's laudable relationship with the neighborhoods it builds in. He contends that seven or eight years ago, the surrounding blocks "were not blocks that you would walk."
"Now there's a beautiful, robust, vibrant neighborhood," Mr. Barnett argued when we met with him at Extell's Midtown East offices. "If you look at it now … I'm sure the neighborhood is delighted to have those buildings there."
Mr. Barnett characterized Extell's relationship with the 57th Street community as good; in his opinion, the board, unhappy with building height and construction in the city, was voting against a "strawman."
"I think we've handled ourselves at One57 very well," he said, adding that inconveniencing neighbors during high-rise construction is inevitable. He added that the tower at 217 West 57th Street is projected to generate "$3 billion worth of economic activity in the next 20 years and approximately $1 billion of taxes."
He called the complaints about Extell's crane safety record "completely unfair," given that the first incident occurred during a hurricane. He dismissed the second as "nothing."
"That was like you're driving on the road and the engine goes down and you call AAA—basically a malfunction in one of the gears and motor, and it had to be winched down manually. There was no danger there. The road didn't have to be shut down, probably; it was an abundance of caution."
While Extell's construction manager at One57, Lend Lease U.S. Construction, was fined for failure to safeguard persons or property following the Hurricane Sandy incident, the fine was dismissed in February, according to a Department of Buildings spokesperson. The crane operator was also fined several other times, in the four figures, for safety violations.
As for whether he might do anything to appease the community, Mr. Barnett said that there was nothing to respond to, since he was abiding by the rules set forth by as-of-right development. "I think this is a moment in time where they're sending a message that's both to developers in general and us in particular that they're not happy. But the specificity of that message is really 'we're not happy with development,' not 'we're not happy with your application.'"
"I believe that everybody at the end of the day will look back and say this was a wonderful project," he said.
***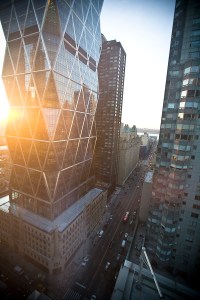 A city's skyline is not merely an architectural abstraction—it gives shape and shelter to the soaring ambitions of its residents, and its construction will forever be a struggle between the people who build and profit by it and those who must live with it and under it.
For many of those who live along 57th Street, two skyscrapers cantilevering over landmarks within a few blocks of one another crossed a line, upsetting the delicate balance that many feel has tipped too far in developer's favor during the Bloomberg years. Skyscrapers may be entitled to the skyline but not to the sky itself.
"I know that we need development, but I have to live in this city, too," said Ellen Kapit, a real estate professional who lives in the Osborne at 205 West 57th Street.
This is what makes the fact that the skyscrapers of 57th Street are being built, by and large, for people who do and will not, so galling. As one woman put it: "These buildings are all about providing great views. It's about people looking out. It has nothing to do with anyone, meaning the entire city, looking in."
But the denizens of 57th Street also bear some responsibility for their neighborhood's change: the Maxmans' building, along with the Osborne, and many other neighboring co-ops, sold their air rights to the developer, enabling Extell to build the sky-piercing buildings that it has. That may well be the only card they'll ever get to play.
There's a chance they could get another under a new mayor, though what that card might be is a whole other matter. Even something that seems as straightforward as a neighborhood height cap can have a huge impact, according to Vicki Been, the director of NYU's Furman Center. "What may seem like it's only applying to really stand-out building like One57, 10 years later, it's built-in inflexibility. It freezes the city."
Some fixes may be simpler. The Maxmans say they would be much happier if the city just enforced the rules it already has for balancing development and quality of life. "I don't blame Extell for trying to get 24/7 work permits," said Mr. Maxman. "I blame the DOB for giving it to them."
"Balancing development with the people who live here is an ongoing issue in a city like New York," said Dan Garodnick, whose city council district encompasses both 57th Street and Midtown East. "Residents want to know that they have a good neighbor who respects the challenges of living next to a big development."
Small gestures, even if they are largely symbolic, can mean a lot.
A few nights ago, Mr. Maxman called The Observer. He and Ms. Maxman had been disturbed by a new noise, faint but grating. It was a persistent whirring, like a broken fan, coming from the vicinity of One57. After checking with the neighboring buildings, Ms. Maxman finally walked over to complain. To her surprise, the construction manager agreed to come to their apartment to listen. He identified the problem—some implement or another accidentally left on—and left to fix it immediately. "My wife just wanted me to call and tell you," said Mr. Maxman. "I guess they aren't all bad."