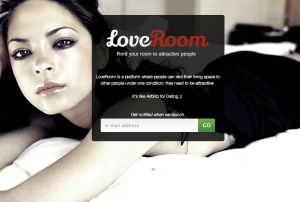 Airbnb users who are sick of hosting uggos will be pleased to learn there's a new startup in town whose goal is to let temporary tenants and landlords match up with hotties they'd like to bang.
Specifically, LoveRoom is "a platform where single people from all around the world can rent their living space to others they find attractive," founder Joshua Bocanegra told us. "If you like using Airbnb and you like using Tinder, you'll really like LoveRoom."
What could possibly go wrong?
The idea stemmed from Mr. Bocanegra's efforts to rent out his own place on Airbnb. He used his girlfriend's photo as the profile picture "so that men (and women) might find an extra reason to want to book our place," he said. "Of course, when they book the place, she'll tell them her boyfriend will assist them with their stay."
Ah, the old bait-and-switch. Using this method, the couple has "been doing really well with Airbnb, and we think it's because my girlfriend's face is on the profile picture," he said. "Sex sells."
They've gotten men to pay $80 per night for a two-week stay in their studio apartment with one air mattress and no TV, Mr. Bocanegra said. Guess it beats a hostel?
Run like a standard dating site, LoveRoom will let users search age range, location, gender and sexual preference. The site uses Facebook and SMS to verify the identities of renters and people with empty bedrooms in their sex dungeons. Users can approve or deny booking requests based on hotness. You can only sign up if you're listed as single on Facebook.
"The intent of the app is to give single people who travel often (or once in a blue) a place to stay where they might find love–or sex," Mr. Bocanegra said. "What happens if you think the person you rented from on Airbnb is attractive? And vice versa. You're in their home, you want to be professional. LoveRoom solves that problem."
Clearly, some murky situations could arise from sex-appeal-based living arrangements, however temporary. LoveRoom's founders had better have some bulletproof legal counsel. But they've got a few months to worry about that, as the app isn't ready to launch yet, Mr. Bocanegra said. Until then, Tinder's location-based services will have to do.