Every year, NYC Resistor's hack-happy crew gets together to carve pumpkins with a few extra tools, usually including LEDs and motion sensors. This year, a small but dedicated group of members of the Brooklyn hackerspace came out on Sunday afternoon to roast pumpkin seeds, take apart some LED fake candles, and carve the shit out of some pumpkins.
Three of the veggie creations were particularly impressive:
First was Shelby Arnold's delicately carved Sherlock. She brought her own gouging tools, usually reserved for linocut. And when she's not carving famous faces into pumpkins, Ms. Arnold works for Robert Sabuda as a pop-up book designer, so she's used to thinking in a few extra dimensions. Last year Two years ago she carved a Doctor Who pumpkin, added an LED to his sonic screwdriver and used an old MP3 player to emit the screwdriver's signature sounds.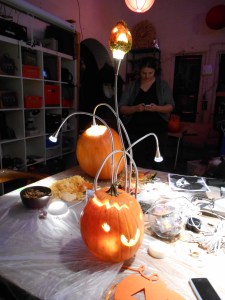 As one of the founders of NYC Resistor, Raphael Abrams knew the tools he had at his disposal. After finishing the simple, adorable, Adventure Time-inspired Princess Pumpkin, he grabbed some giant drill bits and used them to carve an angrier face into the rock hard squash.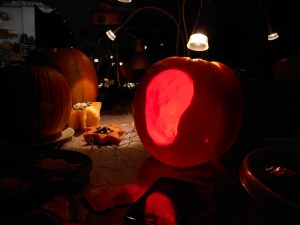 And Astrida Valigorsky used a jello mold she picked up at this year's Maker Faire to squish her extra-concentrated jello into a skull shape. She then cut a similar hole in the pumpkin and used a lasercut piece of plastic to hold the jello in place.
But Mr. Abrams was modest about the creativity involved in using woodcutting tools on pumpkin flesh. "It's basically wet balsa wood," he said eyeing the jigsaw blade in the corner.