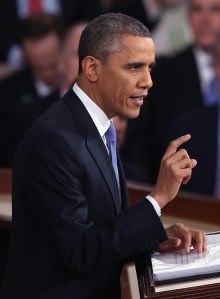 After praising a Brooklyn high school in his State of the Union speech earlier this year, President Barack Obama is scheduled to visit in person later this week.
Mr. Obama will drop by the Pathways in Technology Early College High School (P-TECH) Friday "to discuss the importance of ensuring that the next generation of middle class American workers and entrepreneurs has the skills they need to compete and win in a global economy," a White House official said, according to the Daily News.
In his February State of the Union speech, Mr. Obama highlighted the school as an example of innovation.
"Now at schools like P-TECH in Brooklyn, a collaboration between New York public schools and City University of New York and IBM, students will graduate with a high school diploma and an Associates degree in computers or engineering," Mr. Obama said at the time.
According to a White House media advisory released over the weekend, Mr. Obama will also be attending a fund-raiser for House Democrats while he's in town.