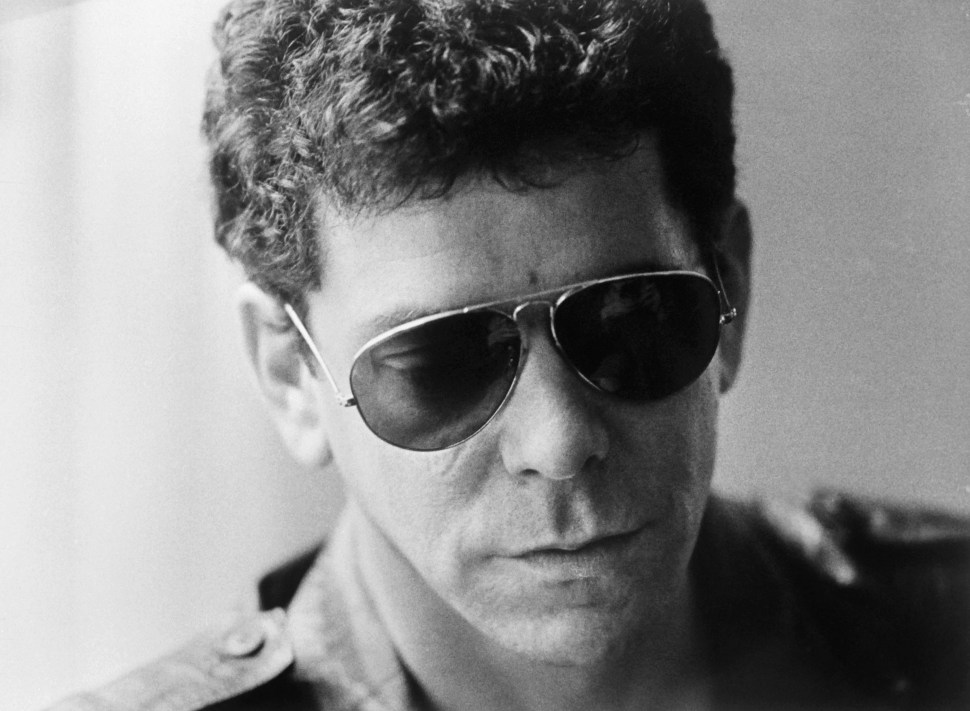 I want to talk about Lou Reed, not because I knew him or because my peripheral memories of him and his music are any more important than anyone else's, but because he was my tragically flawed hero and I loved him like a close relation even though I didn't know him. He always did exactly what he wanted in his music and didn't care if people liked it or not and so in service to him I'm going to do what I want.
"It's hard having heroes," Lester Bangs, Reed's greatest critic, once wrote. "It's the hardest thing in the world." I take this to mean that everyone's heroes always end up human in the end, subject to all of life's great failures. A lot of Lou Reed's music was about these failures, but also the possibility of love among the squalor. I offer the following recollections more or less as evidence of my own failure in reckoning with his life and dealing with his passing.
I.
When I was 13, I listened to the Velvet Underground for the first time on my purple Discman. As a full disclosure and to further age myself: the snobbiest former "I Was There" hipster wannabe Lous, who saw the Velvets at Max's Kansas City or stood behind Jonathan Richman at the Boston Tea Party in January, 1969 or whatever might as well stop reading now and save all of us a lot of annoyance. Having been 13 in the era of Discmans and from a Midwestern suburb with very limited contact with people my age or very many people at all, I discovered The Velvet Underground & Nico from a VH1 special called "The 100 Greatest Albums of All Time," hosted by Dylan McDermott. I think the album clocked in at number 16. I made my mom drive me to the long-defunct Harmony House on Woodward, which eventually became some big box retailer and then finally a giant empty retail space for lease (every generation has its relics!), and as my poor mother forked over $12.99 for the CD I could register the knowing smile from the guy behind the counter with blue hair and a spike through his septum. (It occurs to me that I'm much older now than that cashier-hero was then.)
Hearing Lou Reed sing, in that voice that sounds like it was scraped off the bottom of a dumpster on the Bowery, "It makes me feel like I'm a man when I put a spike into my vein," made it not matter that I weighed about 110 pounds and was an inch or two over five-feet and was so far from being able to relate to the details of that line that the words might as well have been in some long-extinct language; it was the voice of another outcast who sounded like he would live forever and made me feel the same way, a very literal description about a very specific thing that I took as a metaphor and the foundational myth for the creation of my adolescence. I wanted my parents to hear me listening to it and think the worst.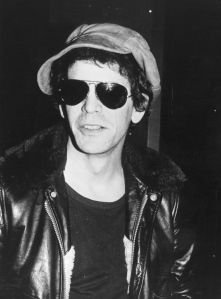 II.
I met Lou Reed once, and it was a truly unremarkable encounter. It was at an art opening at Sotheby's on the Upper East Side, which was bad enough, but I'd had enough drinks that I felt comfortable walking right up to Lou Reed, who was standing in isolation with his wife Laurie Anderson in a corner, the crowd in mutual-avoidance, unable to really come to terms with the reality of this man and the image in everyone's mind, and I mean everyone.
Alcohol had cut away at some of that reverence. I said: "I just wanted to say hello to you. My name's Michael. I'm a reporter." Oof.
He said "hi" and forced a smile. I thought his friendliness, however feigned, was really decent, and when I stuck out my hand he took it, kind of meekly. I can't exactly confirm this, but I swear the bottom row of his teeth was made of solid metal. He was wearing a black trench coat and a powerful smell of aging, drooping flesh emanated off of him. I also noted that Laurie Anderson's iPhone was pink, and that she would not look up from it. In the corner of the room was a goofy sculpture of a large pizza by an artist collective, which had the skyline of Manhattan protruding from it. I asked Reed if he liked the show.
"I like the pizza," he said with a sigh, and I excused myself.
III.
When I got my first job in media, I went to a Velvet Underground "reunion" at the New York Public Library. Sterling Morrison, Lou Reed's guitarist foil, was dead by then, and John Cale, the band's mad scientist violist and bass player who left the group after their second album, didn't show. But Cale's replacement, Doug Yule, was there, as was the drummer Maureen Tucker. (There's a live album called American Poet documenting a Lou Reed performance from Dec. 26, 1972, during the height of his commercial popularity with his second solo album after the Velvets broke up, Transformer. During a brief interlude on the album, a DJ interviews Reed and asks him where Doug Yule is and Reed responds with that monotonous snarl of his, "Dead, I hope.")
Reed, Tucker and Yule were at a long table in front of a big audience in the library being interviewed by David Fricke and his stupid haircut. Yule was mostly quiet because he seemed to have enough self-awareness to know that he was the least favorite of all the Velvet Underground members, but at a certain point he started talking about the old days. And he was talking for about 30 seconds when Reed, jowly and frowning, got up real slow, walked away from the table and into a back room, where he disappeared until Yule was done talking. This went unmentioned by everyone in the room.
IV.
One summer during college I lived with a young woman who liked Lou Reed so much that she managed to convince me that the studied incoherence of Sally Can't Dance was actually a work of genius. (And not just the really catchy title track, but even the amphetamine haze of "Animal Language," the song that has a different chorus after each verse featuring a choir of black women singing different domesticated animal noises—"Bow-wow!" "Me-me-ow!" etc. I still love that fucking album.)
We'd listen most frequently to Berlin, though, especially "How Do You Think It Feels" as it faded straight into "Oh, Jim," the latter containing the soul-crushing coda adapted from an old Velvet Underground B-side called "Oh, Gin" tacked onto the end, which in high school I used to listen to so loud in my mechanically plagued 1990 Volvo that I blew out the speakers. The engine gave out not long after that in the middle of the busiest intersection in the neighborhood, giving me my first truly memorable near-death experience. To this day I like to believe that Lou Reed stole away my shiny childhood innocence and residually destroyed my car's engine, too, but I think the people I bought the car from just weren't very forthright.
The woman from college found another apartment not too long after we met and was around much less and the last time I saw her she was so strung out on heroin that I can't say with any confidence that she's still alive. But before all that she took me to see Reed play the Highline Ballroom in Chelsea in the spring of 2007. The tickets were a hundred dollars a piece and she bought two and gave me mine for free because she said she wanted the company. He was playing with Steve Hunter, the lead guitarist on Berlin, a flashy musician who seems retrospectively to have been the combined product of alternate doses of Benzedrine, Quaalude and other nostalgic pharmaceuticals. Hunter wore camouflage cargo shorts and a stocking cap, and somehow had not aged as well as the medical miracle that was Lou Reed as he approached the end of his sixth decade.
A special guest was promised, and this turned out to be John Zorn, who graced the stage with atonal saxophone blasts during "Walk on the Wild Side." Reed sped up the tempo so much that the song almost resembled the Texas swing of Bob Wills. With apologies to Bob Wills, it sounded terrible, but Reed never could replicate what he managed to pull off in the studio with that song, mostly because there are two overdubbed bass lines on the master recording—a low octave on an upright bass and a high octave on an electric, which poured concrete and steel into the song's mostly empty, improvisational space. That night the song was all air and Zorn's frustrated spasms and no one really looked like they wanted to be playing "Walk on the Wild Side" in the first place because New York just wasn't all that wild anymore, not to them anyway.
V.
The first time I made use of journalistic privilege was when I was the music editor of my college newspaper and I received two press tickets to see Lou Reed play with the Metal Machine Trio. This was a group Reed put together to play improvisational music inspired by his hour-long album of guitar feedback, Metal Machine Music, of which Reed apparently once told a friend of Lester Bangs's, "Anyone who gets to side four is dumber than I am." (For the record, I've never made it to side four.)
The concert was at the Blender Theater in Gramercy (now back to being the Gramercy Theatre) and no one knew what to do with it. Reed sat in a swiveling desk chair behind a wall of effects pedals, fiddling with them like a mechanic who was new on the job and faked his way into it. He occasionally sang nonsensical lines into a microphone that was dangling above his head. I remember him half-singing, "I'm not your bluebird," and then repeating that for a while. I thought it was more interesting than at least half of Reed's solo albums (and basically all of his recorded live albums), but after a short while, the crowd grew restless. Some of them just got up and left, others started shouting things like "Walk on the Wild Side!" and "Play 'Rock and Roll,' Lou!" Reed took all this stone faced and did the same thing he'd always done, just kept making his noises, playing the music he wanted to hear at that given hour. Outside the concert, a guy on a bicycle started pedaling in circles around me and the friend I brought saying, "Did you see Lou? I have something I have to tell him," then he cackled loudly for an uncomfortably long time—still circling us—before heading off into the night.
VI.
A couple months ago I was at a friend's apartment and he had bought a little something and he owned a first printing of Street Hassle, which he insisted we put on. I was in the depths of one of my troughs in the ongoing wavelength of my Lou Reed obsession, which I imagine now I'll ride for the rest of my life, however long that is, but I didn't protest much. At a certain point, my friend turned up the volume so loud that it was like we forgot each other's presence in the room, and even the city outside that Reed was singing about evaporated, leaving just this ironic string section playing a melody so sweet you could walk down the aisle to it at your wedding and that voice—the voice of a guy who's been up for days and is too scared to even try to go to sleep, and makes you think maybe you don't want to live forever, maybe that's the worst punishment imaginable, but even still that voice will be there singing, even after its maker is long gone:
You know, I'm glad that we met man

It really was nice talking

And I really wish that there was a little more time to speak

But you know it could be a hassle

Trying to explain this all to a police officer

About how it was that your old lady got herself stiffed

And it's not like we could help

But there wasn't nothing no one could do

And if there was, man, you know I would have been the first

But when someone turns that blue

Well, it's a universal truth…

At the opening of his photographic exhibition, "Romanticism," at the Congress Center in Estoril, outskirts of Lisbon, on November 5, 2010. (PATRICIA DE MELO MOREIRA/AFP/Getty Images)