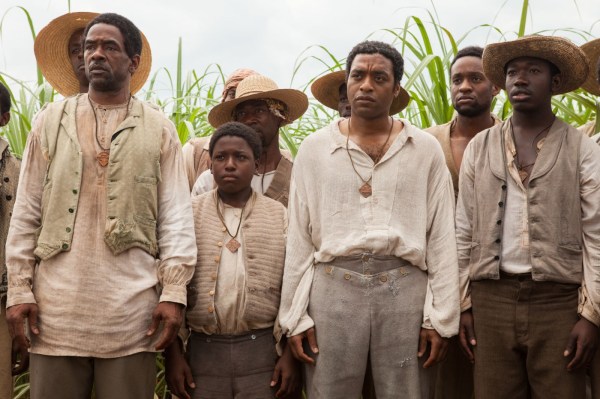 The ultimate cruelty of humanity is tested to the perimeters of hell in 12 Years a Slave, a true story about the ugliest and most shameful chapter in American history. This gut-churning endurance test about a free man of color who was kidnapped and sold into slavery for 12 unspeakable years is so harrowing that any viewer with a weak stomach is cautioned ahead of time as a public service: Whole sections of 12 Years a Slave may be too unbearably wrenching for even the bravest soul to watch. But the impact is so profound that it would be a crime to miss it.
The word most often used to describe it is "brutal," which seems to be a pattern for British artist-turned-director Steve McQueen. His first film, Hunger, centered on the emaciating physical torture behind bars endured by IRA hunger striker Bobby Sands, followed by the ferocity of sex addiction in Shame. Both films starred Michael Fassbender, and as a favor to the director who made him a star, Mr. Fassbender now appears in the smaller but no less challenging role of a sadistic, amoral plantation owner who beats, slashes, whips and hangs his slaves regardless of age or gender.
But the centerpiece of the film is the great Chiwetel Ejiofor as Solomon Northup, a successful and respected musician and family man from Saratoga, N.Y., who accepted a job in 1841 to play the violin for a traveling circus managed by a group of con-men who made a living by drugging, kidnapping and selling into bondage every Northern black man, woman and child they could capture and ship by boat to the slave markets in the South. Unable to convince anyone of his freedom and education, Northup was shackled, beaten ferociously, robbed of his identity as a free man and passed around from one black-hearted slave trader to the next. Thus begins a 12-year saga of survival. Unable to fight back or tell anyone who he was, Northup concealed his intelligence and was forbidden to admit he could read and write for more than a decade in order to avoid suspicion and stay alive. There are times during this depraved memoir of relentless violence and degradation, adapted by John Ridley from a forgotten book by Northup published in 1853, when I wondered if I would make it myself.
Screaming children are ripped out of their mother's arms and sold at auction. A man dangles at the end of a noose, hanging from a live oak tree on tiptoes that are sinking in mud. A beautiful girl is whipped unconscious in a pool of blood. Yet Mr. McQueen manages the impossible feat of averting sentimentality, while Mr. Ejiofor opts for pride and dignity over rage, telling volumes with his deep, dark, expressive eyes. He's a riveting actor, chalking up stunning performances as diverse as the African immigrant selling illegal body parts out of a London hotel in Stephen Frears's Dirty Pretty Things and the original Lola, the flamboyant drag queen who saves a hapless shoe factory from bankruptcy in Kinky Boots. But 12 Years a Slave is the film that will guide him to stardom.
He is more than ably supported by an impressive cast that simmers and boils in supporting roles, including Mr. Fassbender as the savage creature who believes slaves are chattel; Sarah Paulson as his beautiful but barbaric wife; Alfre Woodard as a former slave who now lives in luxury as the wife of a white plantation owner; Lupita Nyong'o as a younger slave who is constantly bludgeoned and raped by Mr. Fassbender; and, arriving heroically near the end, Brad Pitt as an abolitionist carpenter. None of these characters are simple Harriet Beecher Stowe caricatures. As Northup's first owner, British actor Benedict Cumberbatch, vastly superior here than he is in The Fifth Estate, and more coherent, too, even with a Southern accent, at least plays one plantation owner who is not terminally evil. Mr. Fassbender makes something complex out of his villainous role: one minute forcing Northup to pick 200 pounds of cotton per day or face a lynching, the next minute reading scriptures from the Bible to slaves and white family members alike.  Cinematographer Sean Bobbitt, who shot both of Mr. McQueen's previous films, finds beauty bordering on insanity in every sunny, moss-covered lane and every shadowy column of the Louisiana plantation locations. And the juxtaposition of lush greenery and filthy slave-cabin deprivation is hair-raising.
If the best films hold you in a captive vise, entertain you, keep you spellbound and teach you something at the same time, then 12 Years a Slave is outstanding—brave, courageous and unforgettable.
12 YEARS A SLAVE
Written by: John Ridley
Directed by: Steve McQueen
Starring:  Chiwetel Ejiofor, Michael K. Williams and Michael Fassbender
Running time: 133 min.
Rating: 4/4