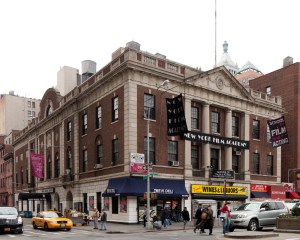 New Yorkers are eagerly awaiting the outcome of the mayoral election that will write the city's next (hopefully bright) chapter of political history, but today, the Landmarks Preservation Commission revisited one of its most infamous—bestowing a landmark designation on the former home of  Tammany Hall.
The Democratic political machine's headquarters at 100 East 17th Street was completed in 1929, when the pay-to-play, corrupt political machine was at the height of its powers. A few short years later, Tammany Hall would lose its stranglehold on city and state politics, when the extent of its corruption was uncovered, leading to mayor Jimmy Walker's resignation. FDR, among other influential politicians, distanced themselves from the group and Fiorello LaGuardia became the first anti-Tammany candidate to be elected in decades.
The group may have dissolved, but the lovely neo-Georgian style brick building by Union Square that was built with ill-begotten funds and monstrous power still stands today; it's currently the home of the New York Film Academy. (The building on East 14th Street that served as a headquarters for much of Tammany's ascent and dominance has been razed.)
"The architecture is interesting, evocative and referential, but the history of Tammany makes it stand out," said LPC chair Robert B. Tierney in a statement. "Tammany means a lot of things to a lot of people, but it's certainly a touchstone of New York City, state and national politics."
The building, according to the LPC, was inspired by the original New York City Hall, where George Washington took the oath of office and was made with specially-molded bricks modeled on the ones Thomas Jefferson used at Monticello (invoking George Washington and Thomas Jefferson is never a bad idea when you're trying to polish a thoroughly tarnished reputation).
Besides its pedimented portico and double-height pilasters, the building also features sculptural reliefs of a Revolutionary War cap and Chief Tammany, a leader of the Lenape for whom the society was named. It was designed by Thompson, Homes and Converse and Charles B. Meyers, who were also responsible for the psychiatric wing at Bellevue Hospital.
The society, at the tail end of its nearly 100 years of political power, sold the building to the International Ladies Garment Workers Union in 1943. In later years, it was the home of Roundabout Theater and the Union Square Theater, which still occupies the building, along with the film academy. 
Though it's unlikely that either mayoral candidate will want to pay his respects to a symbol of political corruption on the eve of the next election, the building's landmarking is a fitting and timely tribute to New York's political history.