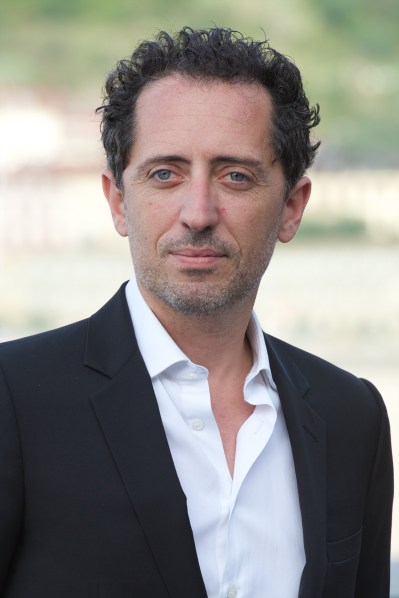 Gad Elmaleh's dream came true this month when he went onstage in an American comedy club and did 10 minutes in English. It may sound like a modest goal, but Mr. Elmaleh, the 42-year-old Moroccan-born French celebrity—who may or may not be engaged to Charlotte Casiraghi, Grace Kelly's granddaughter—remains relatively unknown in the U.S., and those 10 minutes were a big deal. This month, Mr. Elmaleh appears in a new Costa-Gavras film, Capital, a grim commentary on the rapacity of banking, and he also just wrapped up a short residency at City Winery, where he performed a series of all-French shows. In a recent conversation with the Transom, the comedian told us what New Yorkers can expect from him next.
How did the English stand-up go?
It was great. I did my 10 minutes at the Comedy Cellar and the Gotham Comedy Club. But I was very nervous. My mic was shaking. Nobody knew me. I was just some random guy trying to be funny.
Was it humbling?
It was a challenge. I didn't have the credit that I have with Francophones. But it went well, and I'm going to keep on doing this. I love coming to New York. I think I'm going to come really often here. I need to—for the show, for the comedy. I want to do the shows here and have a beer and hang out with the comedians. Simple life.
Was it hard doing a monologue in a foreign tongue?
I discovered that it's not really about the language. It's about how the words are pronounced and the delivery. We have plenty of good English-speaking comedians. It's O.K. if I have my accent, my gestures, my way of speaking. But it's stressing, because, as I said, the audience doesn't know me. They're just sitting there thinking, Who the fuck is this guy?
Why the desire to test yourself?
When you succeed, at a certain point, you want to challenge yourself. Otherwise, you become boring. You become a has-been. It's not very interesting. I don't want to be this guy who has only succeeded in France. I could say, "O.K., that's it, merci." But I'm not interested in that.
As a Jew, do you feel a connection to the early American stand-up pioneers like Lenny Bruce and Woody Allen?
It's very interesting, because I believe in the Jewish connection in America, of course, but I also believe in my culture, which is Moroccan. Moroccans have this very typical humor, and I'm really a mix of that. I don't know many comedians that have both. I would say that's why I like to do more physical things in my act.
How was it being in Costa-Gavras's very serious new film?
So serious. When I finished that movie, I said, "It's very difficult to make people laugh." I'm not saying this movie was easy, but making people laugh, it's so serious, so exigeant, so demanding—you have to be very sharp with the jokes. For this film, I was lucky. I was with Costa-Gavras, a big director, so I threw myself in his arms. But you can still feel it: I'm a comedian.
Is it a direction you'd like to go in?
No, I did my serious movie. I want to do comedy. It's funny that I get to be interviewed by people now for this, and they don't even know what I was doing before for 20 years. I've been doing stand-up and all kinds of crazy movies—playing crazy characters, transvestites, crazy men—and the first time I do an interview, it's for this Capital movie. So it's a little bit weird for me. But, c'est la vie.