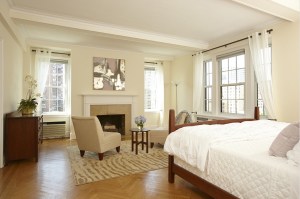 When Bob Kissane—president of the fund development and strategic consulting firm Community Counseling Services—acquired a $2.1 million 9th-floor co-op at 336 Central Park West in 2004, he seems to have felt less than satisfied.
Why, exactly, we cannot quite say. It is clear, though, that Mr. Kissane wanted more, because four years later he bought the unit above him for $2.7 million. But whatever contentment came with the purchase, and the enviable duplex that followed, was short lived. Mr. Kissane just sold the combined property has sold for a total of $7.5 million, according to city records. At least he was probably pleased with the roughly $2.7 million profit that he pocketed in the transaction.
The 9th and 10th-floor duplex sold to Seth Segel and Elizabeth Hilton Segel. Mr. Segel—who is CEO of WPI Holdings, a healthcare distributor—and his wife, a director at McKinsey and Company, will be treated in their new home to three-way vistas from every room, a pair of wood-burning fireplaces and herringbone hardwood floors. And then there are the quotidian comforts, like five bedrooms, among them a "sumptuous master suite," and 4.5 baths, according to the listing, held by Stribling's James White. And if views from indoors prove unsatisfactory, through a mullioned set of French doors lies an inviting 11-by-19-foot terrace—the perfect place to watch the jealous hordes pass by.
While 336 Central Park West, which stands between 93rd and 94th Streets, doesn't number among the avenue's great beauties, she is uncommonly pretty. Designed in Art Deco style by the prolific 20th century firm of Schwartz and Gross, 336 CPW's unusual brickwork begins in deep purple hues at its base, shifting toward golden beige at the rooftop tower. The edifice of the 1929-building also sports Egyptian-style cornices—an embellishment it once shared with The Tombs detention complex—and it was, in its day, reportedly at the forefront of home plumbing innovation.
Whether Mr. and Ms. Segel will demonstrate the same acquisitive tendencies as Mr. Kissane remains to be seen, but for the moment they'll have to content themselves with their five-bedroom duplex. There are no opportunities for expansion, just now, on either the 8th or 11th floor.