Edited by Ann Goldstein
(Prestel USA, 400 pp., $85)
The considerable gap left by the suicide of the artist Mike Kelley last year is only more apparent in light of his retrospective show at MoMA PS1. That show should be experienced firsthand, though a close second is this comprehensive catalog, published in conjunction with the exhibition, which has traveled to New York from the Stedelijk Museum in Amsterdam.
This compendium opens with the artist's college punk band, Destroy All Monsters, and moves through his star-making turn with creepy stuffed animal sculpture and his extensive catalog of dream-like videos documenting his thoughts on repressed memory syndrome, and everything in between.
All of this is valuable enough to have in one place, but the real gem here is an interview between Kelley and Eva Meyer-Hermann, conducted just a few weeks before the artist's death and partially revised by Kelley before his passing. It's positioned in the book in a way to make it seem like Kelley's last great work: "My parents didn't like art," he says. "So I had to find the place where what I did was right." —Michael H. Miller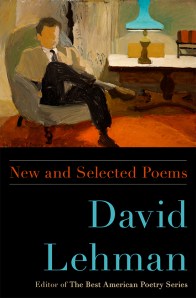 David Lehman
New and Selected Poems
(Scribner, 320 pp., $20)
There is a temptation to read David Lehman's New and Selected Poems backward. The author, following a notion of Auden's, has organized his collection in reverse chronological order, placing the new poems first and urging us to work our way into the past. Starting at the end, however, with 1967's "The Presidential Years," one realizes there is a spark of brilliance to his order: The book ends with the line, "We are all going to wind up under the ground."
There is a generousness of spirit that the poet and the anthologist have in common. As a poet, Mr. Lehman has always been conversational in style, given to seemingly casual aperçu that take on a larger resonance: In "The Story of My Life," one of the new poems, he observes of the word meme, "I keep thinking it should be même, as in the French word for / 'same'," and in an entry from his 2000 collection, The Daily Mirror: A Journal in Poetry, he reminds us that Tylenol "spells 'lonely' backward with / only the initial T added." His poems weave through history, philosophy, sports, love, jazz, New York life, family life, Judaism and poetry. There are appearances by Freud, Wittgenstein, Marlon Brando, Latrell Sprewell, Coleridge, Keats, Blake, Herrick and Jeff Koons. 
In "January 8," one of his journal entry poems from 2002, he provides the key to a project he is still pursuing: "what happens when the imagination / as conceived by Wallace Stevens marries / the language as conceived by millions daily." —Sarah Douglas