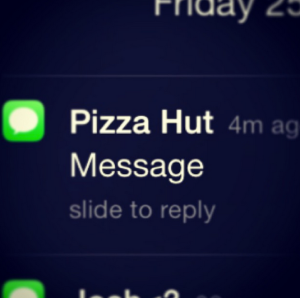 Millennials are so lazy that they can't even be bothered to sext anymore. According to a new study from MTV, fewer people in 14-to-24 age group are receiving explicit pictures compared to a few years ago. Of the 1,300 polled, 26 percent of them admitting to being involved in a form of sexting — a six percent drop since 2011. We're guessing Snapchat had a little to do with that.
The survey, released Thursday, surveyed kids on their digital habits. Other questions revolving around sexting revealed that 11 percent of millennials did admit to posting a naked picture on a social network or sending it via text. Although those findings are similar to what they were a few years ago, it appears we've finally learned not to send naked pictures to complete strangers online, as that figure dropped in half.
Compared to a few years ago, young adults are being generally less assholic to each other, or so we claim. Online bullying by way of online impersonation them online dropped six percent, people who fell victim to "digital abuse" fell seven percent and spying on friends by logging into their email or social media accounts dipped five percent.
As the Los Angeles Times notes, 40 percent have experience some form of "digital dating abuse." That includes their partner's snooping on their texts, badgering them with texts inquiring where they are and saying "really mean things" about them on the Internet. That's a dealbreaker, ladies!
The newspaper notes:
Why are those numbers dropping? It might be that young people take online harassment more seriously. Teens and young adults are increasingly aware that digital abuse is destructive, the survey found, with 72% calling it a big problem that should be addressed.
I think we need a panel discussion led by SuChin Pak to help sort out our feelings, MTV.