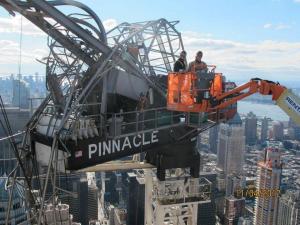 One57's crane continues to make life miserable for its neighbors. Just weeks away from the one-year anniversary of the crane's dramatic Hurricane Sandy break and ominous, prolonged dangling, the crane once again had some issues, forcing 57th Street to shut down as construction workers scramble to fix the problem.
As the New York Fire Department succinctly described the situation on its Twitter feed: "same crane, different incident."
West 57th Street between Sixth and Seventh Avenues was shut down between approximately 11:20 a.m. and 3:30 p.m., with some residual traffic delays.
The situation, which was first reported by DNAinfo, apparently has to do with "an unstable load on crane" according to another FDNY tweet. A spokesperson for the Fire Department told The Observer that they arrived on the scene at 11:34 a.m., but said that the department did not know exactly what went wrong with the crane. There are no injuries.
According to DNAinfo, the crane was lifting a 13,500 pound counterweight when there was a "mechanical failure" at about 429 feet, forcing the nearby Geneva School to evacuate. Workers said that manual brake was used to lower the load.
There is a possibility that the load on the crane may have become unbalanced in high winds—New York City was under a tornado watch until 5 p.m. this evening, according to the National Weather Service, and the day has seen some gusts.
As for the rising luxury condo's neighbors, the incident is an unpleasant case of deja vu. When the crane boom snapped during Hurricane Sandy's 110-mile per hour winds, nearby residents and businesses, including Carnegie Hall, were forced to evacuate during the week it took workers to secure the precariously dangling boom. Then, this spring, residents of several nearby buildings were again mandated to sacrifice the comforts of house and home while Extell swung a new crane boom over their buildings.
Neighbors were further chagrined this summer when the Department of Buildings granted Extell construction permits allowing it to work on the super-luxury tower round-the-clock, seven days a week. This time, it might take more than Extell's standard thanking "our neighbors for their understanding," and offering their "sincerest apologies for any inconvenience" to make things right with the street's other residents.
UPDATE: Extell has released a statement:
"As part of the process of removing the crane at One 57, hoisting equipment for the tower crane sustained a malfunction earlier today.  NYC agencies were immediately notified. All safety systems worked as designed.  With safety as the priority, the team expedited bringing in an additional crane mechanic prior to starting the backup lowering process. 57th Street was temporarily closed as a precautionary measure.


The crane's block was lowered and fully secured on the ground without incident and 57th Street was reopened at 3:30pm today. Thank you to all NYC agencies including DOB, Cranes and Derricks, NYPD, FDNY and OEM for their support and assistance. We apologize to the community for the inconvenience."