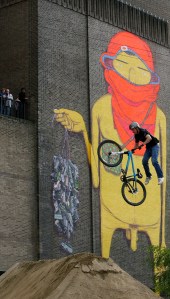 Lehmann Maupin, of Chelsea, the Lower East Side and Hong Kong, announced today that it has added Brazilian artists Os Gêmeos and Sonia Gomes to its roster. They'll respectively have their first shows at the gallery in March 2015 and November 2014.
"David [Maupin] and I have a long history in Brazil, and we've represented artist Adriana Varejão since 1996," gallery co-owner Rachel Lehmann said in a statement. "Expanding Lehmann Maupin's program to include Os Gêmeos and Sonia Gomes demonstrates our commitment to working with artists from the region and to building stronger ties to contemporary art and artists in Latin America."
Here's a bit from the release about their work:
Twin brothers Otavio and Gustavo Pandolfo have been working under the name Os Gêmeos, which means "twins" in Portuguese, since 1987. They credit the explosion of street culture into Brazil in the 1980s and 1990s as a major influence and the starting point for their practice. They have also been influenced by their travels, both within Brazil and internationally, and their visual language reflects their impressions of multi-faceted cultural experiences…

Sculptor Sonia Gomes uses fabric to create colorful, multi-layered biomorphic forms and structures. The fabrics are typically found or given to her; their histories create important embedded narratives for the artist and conceptual context for their reworking and presentation. Gomes's work is profoundly personal and, at times, autobiographical…
It's a long wait for those solo shows, to be sure, but if you're over in London, you can see their work at the gallery's booth at Frieze.