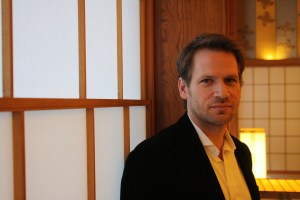 Not so long ago, John Freeman, the former president of the National Book Critics Circle and until recently the editor of Granta, was very likely the most prolific writer about books on the planet. By his estimate, he would file as many as six articles per week—reviews or author profiles—and had a "220-spoke universe of newspapers" that he would syndicate his articles to, a pre-recession ubiquity that he admits would be impossible to maintain now.
"I was just working nonstop," he said in an interview at his apartment in Manhattan. He gave off an air of fastidiousness, even in a T-shirt and jeans. "It was great, because I felt like a book factory. Books arrived at my door, I sat down and read them, I'd write about them, I'd get them out to people. It was just like this conveyer belt, which sounds really unromantic. But everything I did was somehow related to what I was reading or what I was writing about. I felt like this head attached to a machine."
"He often pulls all-nighters," said Nicole Aragi, the literary agent and Mr. Freeman's longtime girlfriend. (They met when Mr. Freeman sent her a manuscript of a novel he had written about the 1970s NASCAR circuit called The Mystery Ride of Bobby Ledew. She rejected him as a client.)
This month, Mr. Freeman will release How to Read a Novelist, a collection of his author interviews, though not nearly all of them. It reads like a fairly complete dictionary of the most important writers of the last decade. He has smart insights about the interviewing process, particularly in a piece about bungling a talk with John Updike: "An interview…is not an actual conversation, but rather a form of conversation that has the same relationship to talking as fiction does to life."
The book is Mr. Freeman's first project since leaving the quarterly literary journal Granta suddenly last spring. His departure led to conflicting explanations: He said he left to preemptively avoid having to fire any of his employees as a means of cost-cutting; the publisher of Granta, which is located in London, said Mr. Freeman wanted to move back to New York. During his four years as editor of Granta, whose themed issues have jumpstarted the careers of Ian McEwan, Zadie Smith, Karen Russell and countless others, Mr. Freeman took a financially strapped publication and brought it into the 21st century.
"It's not just that John's left big shoes to fill," the novelist and Granta contributor Aleksandar Hemon said. "He took the shoes with him."
Mr. Freeman worked briefly (and quite poorly, he says) as an editor's assistant in book publishing, but his rate of productivity as a critic soon made him a household name. In 2002, he joined the board of the National Book Critics Circle, and was named the president of the organization in 2007, at a time when the bottom was beginning to fall out of the media industry. Book review sections were being steadily phased out of newsrooms. With the NBCC, he started the Campaign to Save Book Reviews. That the NBCC, which for its entire history was an award-giving organization whose main goal was to support good writing, was now taking on an advocacy role was not exactly uncontroversial to its members. The board saw the necessity of Mr. Freeman's campaign but, according to one board member at the time, participated somewhat grudgingly. He gained a reputation for doing things his way.
In 2007, he attended the New York party for Granta's second edition of their "Best of Young American Novelists" issue. (The first, published 10 years earlier, included up-and-coming authors Jeffrey Eugenides, Jonathan Franzen and Lorrie Moore, among others, and acted as a kind of guide for Mr. Freeman in his post-college years.) In attendance was Edmund White, whom Mr. Freeman had recently interviewed leading up to the publication of the author's memoir, My Lives. Mr. White had been one of the judges for selecting the issue's featured authors, and he introduced Mr. Freeman to the magazine's publisher, Sigrid Rausing. Ms. Rausing, the heiress of the Tetra Pak packaging fortune, became Granta's publisher in 2005. Far from the gala-chairing, start-up-investing socialite of Thursday Styles stories, Ms. Rausing was private and largely unknown before purchasing Granta. She holds a Ph.D. in social anthropology. Months before buying the magazine, she started a publishing house with her husband called Portobello Books, which would merge with Granta's own book publishing imprint, Granta Books, in 2006.
By the time Mr. Freeman met her, the magazine was looking to replace Ian Jack, Granta's editor of 12 years. Mr. Freeman's name was in the running, but the owners chose Jason Cowley. He left after three issues to edit The New Statesman and was replaced by the magazine's first female editor, Alex Clark. Her first issue, themed "Fathers," was released in January 2009. Mr. Freeman was offered the job of American editor of the magazine. His role was to keep in touch with New York agents and publishers, but the position was so disconnected from the rest of the magazine that the owners did not even realize Mr. Freeman's work overlapped with that of an associate editor, Adelaide Docx. She would dig up stories—like the first excerpt of Tea Obreht's popular The Tiger's Wife (which eventually appeared in The New Yorker)—that were almost unanimously turned down by the London office.
"That's pretty much what happened with me as soon as I started," Mr. Freeman said. "They hired me as American editor, but it wasn't clear where that would be on the masthead. Because I knew people, I was able to get a few things that they wanted. I got an excerpt of Kenzaburo Oe, Paul Auster and other stuff. Everything else that they didn't already decide they wanted, they turned down. That situation wasn't exactly good for either of us."
Ms. Rausing began second-guessing Ms. Clark. She asked Mr. Freeman to send her everything he had submitted to the editor that had been rejected. Her frustrations culminated in the spring of 2009, when Salman Rushdie's agent submitted a story to the magazine that was swiftly shot down through a curt email from Granta's senior editor, Rosalind Porter. The reason given was that the piece had been previously published in pamphlet form at Le Conversazioni literary festival in Capri, which technically contradicted Granta's editorial policy. The message was forwarded to Mr. Rushdie, whom Mr. Freeman said he had been courting for a piece, and Mr. Rushdie asked to be removed from the publication's list of contributors. Shortly after, Ms. Clark resigned. She'd been on the job for only nine months. Mr. Freeman was appointed acting editor.
"And I thought, 'Oh, shit,'" Mr. Freeman said. "Because that was going to make me the fourth editor in three years."