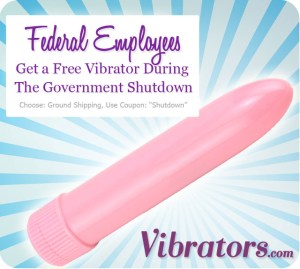 Congress may have turned off the federal government, but it appears its jilted employees are more turned on than ever–and they're finding satisfaction online in various ways.
First, the Internet caught wind of a series of Craigslist personal ads in which people purporting to be federal staffers sought consummation, sometimes for cash. Even some private-sector employees heroically put their pudenda on the line.
And now, there are two more intersections between out-of-work federal employees and online sex, meaning this is officially a trend. First up: Vibrators.com is offering 200 free sex toys a day to non-essential federal employees.
The free vibes are five inches long and one inch in diameter (meh), and "emblazoned with the Vibrators.com logo on one side, so that you will forever remember our generosity," the site says.
But staffers who are hurting for cash and unable to find solace in a battery-powered appliance are finding more lucrative arrangements by signing up for sugar daddy websites, NPR reports:
"SeekingArrangment.com, [sic] which bills itself as 'the world's largest sugar daddy dating website,' says it has seen a 50 percent jump in average daily sign-ups since last Sunday, just before congressional intransigence forced the federal government to stop fully functioning. WhatsYourPrice.com, which lets people bid for first dates, reports a similar increase — the average number of daily signups went from 500 to 900 since Sunday."
If it's truly the government staffers who are getting in touch with their inner Holly Golightlys thanks to the wonders of cyberspace, we can't say we blame them. Unemployment can be a lonely and broke state of affairs.
But what if the employees don't want to leave their cushy new "arrangements" when the federal government gets back to work? That may be the ultimate eff-you to certain conservative, sex-averse members of Congress.
(h/t The Daily Dot)