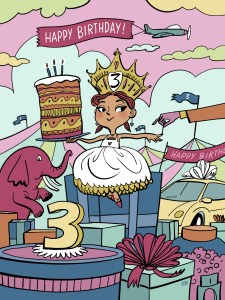 I don't want to brag, but my 10th birthday was kind of a big deal. The invitation was a homemade collage (think ransom note with photos of a hirsute preteen in lieu of letters) that my mom had Xeroxed at the local copy shop on carnation-pink paper.
Dinner was two large cheese pizzas and enough Cherry Coke to power a tractor, which was important since all seven of my guests and I needed to stay up past our bedtimes in order to make it through The Gods Must Be Crazy II on the big screen before decamping to my living room for a John Hughes VHS marathon. My big present was a Donnie Wahlberg doll in a Union Jack-printed pleather jacket. Like I said, pretty epic.
As a result, I like to think that I can throw a pretty good party, too. For my husband's 30th birthday, I memorably made lamb kebabs for two-dozen people on a George Foreman grill, and I hang streamers in a manner that evokes a very fancy car wash.
However, these achievements in DIY hostessing would not impress anyone at the New York Birthday Show, an honest-to-God(s) kids' party expo show that's coming to town (well, Queens) on Oct. 20, complete with copious amounts of glittery swag, pint-size spa stations, the Big Apple Circus and TLC's Cake Boss.
Presumably, the Birthday Show caters to parents who feel the need to be kept abreast of the hottest trends in expressing the joie de vivre of the under-12 set, and I have to wonder who on Earth would actually attend this, considering that we already live in the capital of the world when it comes to spoiling children.
After all, you and I can proudly claim that we tread the same soil as a Staten Island couple who spent more than $40,000 on their 1-year-old's birthday, which included a roller coaster and aerial performers! There is almost no city landmark that cannot be bought for our children to defile with their miniature, frosting-covered fingers. And, according to The New York Times, Knicks tickets have now replaced Super Balls as the gold standard for goody-bag favors. It seems we're O.K. overdoing things without an expo to egg us on.
I'm not completely naive; I accept that substantial cash is required for, say, a bar mitzvah or a sweet 16, but frankly I thought I had a few years to prepare for that kind of hoopla. How wrong I was. Age 60 may be the new 40 when it comes to sexual appetites and cholesterol levels, but 8 is the new 80 when it comes to how much you should reasonably expect to spend on a blowout birthday bash.
First things first. Regardless of whether the guest of honor can walk yet, you'll need a venue. "Home" does not count unless it is preceded by the word "Madonna's." If you regrettably do not know anyone famous, you can show your parental love by renting out F.A.O. Schwarz and performing an acrobatic duet for your offspring on the giant piano (don't bother mentioning Big; they only know Tom Hanks from Toy Story, and his human face would just upset and confuse them).
The more mature child might prefer a club designed to resemble Studio 54, or a Prohibition-era speakeasy. Virgin cocktails are encouraged, not only to lend the party a sophisticated vibe but also teach kids how to carry a martini glass across a room without losing any of its contents. (It is never too early to pass on this valuable skill.)
Amazingly, pizza and carbonated corn syrup have stood the test of time as far as catering goes, unless you have an American Girl fanatic, in which case prepare to spend top dollar for fruit kabobs named after a plucky fictional slave. The good news is that you can save money on waitstaff, as children have a notorious predilection for buffet-style dining, dismissing passed hors d'oeuvres as "too high to reach."
Obviously, you'll need to spend the bulk of your food budget on the cake. If you don't love your child, go ahead and make it yourself; otherwise, there are numerous bakeries that specialize in turning eggs, sugar, butter and flour into objects that cost more than your first car. Ideally, the cake should be in the shape of a garish cartoon comprised of angles hard to achieve according to the properties of buttercream and the laws of physics.
Entertainment is a must these days, too. Clowns, however, are considered somewhat passé. You're much better off with down-on-their-luck professional athletes (the injured come cheap, and kids will enjoy being able to outrun them) or a trio of aggressively hip stylists who, with just a few pots of glitter eye shadow and a crimping iron, can effectively recreate an episode of Toddlers & Tiaras in your very own living room (or at Le Bernardin, if you've heeded my earlier advice).
Finally, lest you errantly believe that laying down six figures for a toddler-appropriate burlesque revue constitutes a gift in and of itself, you'll need to reserve the last of your savings for the most popular toy or electronic gadget on the market, which if done correctly should involve attempted bribery and/or an exchange of encrypted emails with Edward Snowden.
I apologize if I sound a bit pedantic. Please understand that it's only a side effect of my guilt. You see, two weeks ago, I threw my own son a second birthday party that included zero celebrity appearances (unless you count Elmo, whose disembodied Mylar head greeted guests at the door), a rectangular homemade cake as flat as the Eurasian Steppe, and a marked lack of complimentary manicures. Perhaps I need this birthday show and its teachings more than I'd like to admit.
If they have the Cake Boss, they might even have Donnie Wahlberg, right? A girl can dream.