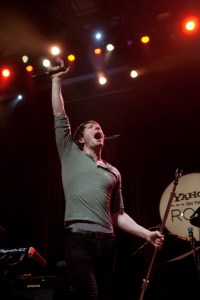 The new ring tones, alarm sounds and text alerts of iOS 7 are mostly pleasing in their bleepy-bloopiness, aside from a few missteps (we're looking at you, piercing sonar alarm default).
If you heard them and thought they resembled syrupy, squeaky-clean pop music, you weren't too far off. As it turns out, the man behind Owl City may also be the man behind iOS 7's new noises.
9to5Mac reports that "sounds for iOS7" appeared on the discography page of the personal website of Adam Young, the group's founder and singer. It's since been removed–maybe at the insistence of Apple, 9to5Mac suggests–but the similarities between Owl City's 2008-dELiA's-store sonic style and the new tones are pretty striking.
So does this mean the crop of ring tones that come with iOS 8 will feature a Carly Rae Jepsen collab? Please say no, Apple. We don't think we can handle having a ring tone stuck in our heads for months at a time.
[youtube=http://www.youtube.com/watch?v=OU-5XZNh38w&w=420&h=315]