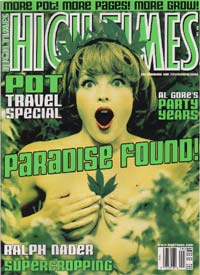 Finally, a stable investment in this uncertain media climate: for only $250,000, you can become a partial owner of marijuana mag High Times.
Former editor and current shareholder Steven Hager is selling between two and four of his shares, he announced on his blog this afternoon.
Mr. Hager wrote:
Did you know there only four shareholders left at High Times? The founder's great dream of a nation of workers didn't really manifest exactly on course, but the few shareholders there are get together every year and plot the course for the year and discuss every aspect of all things marijuana. And, of course, you get to see all the financial information and hear the inside stories on whatever sagas are rumbling through the undercurrent of that scene. Lots of juicy gossip that you can never reveal. It's sort of like being part of the Pot Illuminati.
So a quarter million dollars to be part of the Pot Illuminati? There are worse deals. (Of course, you could also get a whole lot of marijuana for that much money, but that's not nearly as fun–right?)
"It means you own a piece of the company and get invited to the annual meeting, and typically get a couple of bonus checks every year depending on the situation," Mr. Hager elaborated in an email to The Observer.
The shares will be auctioned off on eBay starting on October 10, but the whole drag of bidding can be avoided by getting in touch with Mr. Hager in advance. Mr. Hager came up with the price because, in his personal estimation, the company is valued at $16 million and there are 67 shares.
So, we guess that almost makes sense, financially.
"It just seemed like the best way to sell them for the best price," Mr. Hager told us.
But maybe think of it in an investment?
 "Trust me, once pot becomes legal, the value of these shares will explode. Someday, this company will go public, and when it does, anyone holding a share will become rich in the process," Mr. Hager wrote in his blog post. "It's sort of like getting a permanent seat at the Super Bowl of marijuana and gets you amazing perks at High Times events like the Cannabis Cup."
But $250,000 and a cannabis dream won't necessarily get you that "permanent seat at the Super Bowl of marijuana."
"The corporation has first right of refusal and if they don't like someone, they can buy the shares at the same price that person is offering, so it's sort of like trying to get a condo in an exclusive building," Mr. Hager clarified.
An exclusive building that you can hotbox, that it.