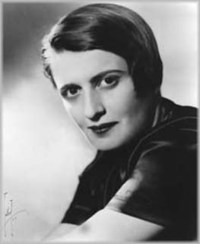 Once upon a time, if you started rattling off very specific criteria for a mate, your mom would tell you to quit being so picky and stuff a copy of The Rules in your Christmas stocking. Not anymore, though, because now there's the Internet to cater to your pickiness.
The Wall Street Journal reports that we're living in an unprecedented golden age of super-specific dating sites. There's Farmers Only, GlutenFree Singles, and, of course, Atlasphere, "an Ayn Rand appreciation site with a dating component."
Sometimes it's just so hard to find people on your level, you know? You just find yourself wondering where's the John Galt to your Dagny Taggert:
Ms. Betit-Hancock, a schools special-needs coordinator, says she had been "kind of freaking out," wondering how she'd find someone "rational" to date. She met a man at a meet-up group for fans of libertarian former congressman Ron Paul, but "he couldn't explain why he supported Ron Paul and why the ideas behind his policies made sense."
Good news: She's now found someone up to her standards, and they live in New Hampshire with a dog named after a character from Atlas Shrugged. This modern love, indeed.
Cruelly omitted from this trend piece: Ghost Singles. "Don't haunt alone!"
(h/t The Awl)