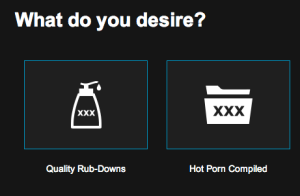 Nipple rings, tribal tattoos and inaccurately designed doctor's rooms might be a turn off for porn surfers as they comb through the massive numbers of videos to get to the right one. But hoping to curb those misfires, PornHub recently launched PornIQ, a customized video playlist based on your preferences. 
Since you didn't assemble your "Pandora for porn" quickly enough, PornHub saw a niche for itself. "If you know exactly what you're looking for, just search," PornHub Vice President Corey Price said to XBiz, "But if you don't know exactly what you want, this is a great way to deliver a different kind of experience."
Users pick from several desires (Drawn for your Pleasure, Rough Rompings, Innocent and Sweet and Mamacitas are just some) then you're narrowed down to a categories. From there, videos are organized by duration, since you may or may not have all day, and a platter of videos is served.
One downfall, aside from the garish black background, is that we noticed that the videos are more aimed toward heterosexual tastes. Surely, in a world where there's a subreddit for every fetish, the PornHub network of websites has offerings for other audiences.
The highly advanced algorithm is formed by the data PornHub spookily collects. For porn, user-generated lists don't work since not everyone is into the same type of desires and sharing your playlist could be embarrassing. Although if they were your true friends, they wouldn't judge.
With more than 70 million daily visitors, a personalized experience helps PornHub maintain its, well, dominance. Weirdly, we didn't see that as an option.