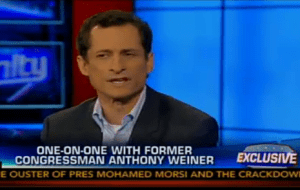 His campaign may be dead, but Anthony Weiner is still chugging along.
Almost a month to the day since he faced off against MSNBC's Lawrence O'Donnell and then finished a distant fifth in the mayor's race, Mr. Weiner challenged conservative talk show host Sean Hannity to a health care debate on Fox News and quickly found the discussion veering into absurdity.
The two men, who share polar opposite views on nearly every issue, were at each other's throats through the brief appearance, sparring over everything–including Mr. Weiner's reason for appearing on the show.
But Mr. Weiner nonetheless tried to dominate the conversation, asking nearly as many questions as Mr. Hannity, at one point prompting the frustrated host to declare, "I'm the host, you're the guest!"
"I get to do questions! What am I? A potted plant?" Mr. Weiner shot back.
"You're auditioning for MSNBC. You're auditioning! You want Chris Matthews's job. I can tell! You want to ask the questions. You wanna be Chris Matthews. You never shut up like Chris Matthews either," Mr. Hannity alleged. (Mr. Weiner—who sources told Politicker was meeting with agents long before he launched his bid—insisted this was not the case.)
"Fox apparently has much lower standards. I'd much rather have a job on Fox," replied Mr. Weiner.
"Oh, ouch. Ooh. You want me to talk about low standards? You really wanna go there?" Mr. Hannity fired back.
The conversation ended with Mr. Weiner challenging Mr. Hannity for staring off into the television cameras instead of him.
"Where do you keep looking? Who's over there?" demanded Mr. Weiner.
"There's a camera over there that I'm turning to," explained an unamused Mr. Hannity.
"Oh, I see. It's like a theatrical thing," the former congressman quipped.
Watch the entire exchange below:
[youtube=http://www.youtube.com/watch?v=PVcah1ZTclg&w=420&h=315]