Celebs don't call 911 in an emergency; they ring their PR people. In the old days, a well-placed item could defuse a crisis. But in a universe of voracious gossip blogs, omnipresent iPhones and truthiness, managing mishaps is much messier. How did PR pros handle the year's most high-profile gaffes?
Paula Deen 
Southern cooking ambassadress
Crisis: Former manager of Ms. Deen's Savannah, Ga., seafood restaurant accuses her of using racial slurs
Rabbi: Eric Rose, The Rose Group
Face-saving action: "Grammatically twisted, biblically allusive, weepy appearance on Today" (USA Today); mawkish self-posted videos
Result: Pariahdom. "Paula actually has her PR team to thank for getting the boot from the Food Network because it was apparently everything after the N word usage that led to her dismissal." (Perez Hilton)
Grade: D
Kevin Clash
voice-of-Elmo Muppeteer
Crisis: Now-dismissed sex-abuse lawsuits by then-underage boys
Rabbi: Spin-meisters CommCore Consulting Group
Face-saving action: Refuse all interviews; unleash lawyers to parse favorable court rulings for media
Result: Sympathy. "He is still very much an innocent man … legally. For the sake of Elmo, I sincerely hope this nasty business is finished for good." (PinkIsTheNewBlog)
Grade:  A
Amanda Bynes 
onetime actress
Crisis: Public antics involving wigs and flip-flops; getting fired by entire management team.
Rabbi: Hollywood publicist and "friend" Jonathan Jaxson
Face-saving action: "Leaks" texts from Ms. Bynes claiming "all this has been an act… The world loves me!"
Result: Nervous laughter from media, friends, relatives—until Ms. Bynes was hospitalized with "severe mental health issues" last month.
Grade:  D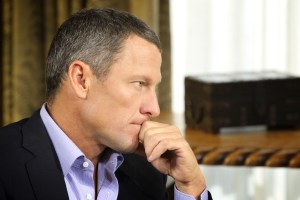 Livestrong Foundation
Lance Armstrong-founded charity
Crisis: Founder Mr. Armstrong admits doping, gets stripped of Tour de France titles, banned from pro cycling for life
Rabbi: Katherine McLane, in-house communications vp and external affairs director
Face-saving action: "Lance? Lance who?"
Result: PRSA award for "highly disciplined communications strategy…to separate the Foundation from its founder and insulate its work from the controversy surrounding Armstrong's cycling career." As if.
Grade:  B
Manti Te'o
San Diego Chargers linebacker
Crisis: Burgeoning career almost hits skids when it emerges that Mr. Te'o's girlfriend, who had allegedly died from leukemia, never actually existed.
Rabbi: Matthew Hiltzik of Hiltzik Strategies
Face-saving action: Interview with fellow Hiltzik client Katie Couric, in which Mr. Te'o claimed he was as duped by a friend who later confessed to concocting "girlfriend" and luring Mr. Te'o into an online relationship.
Result: Skepticism. The public found it hard to believe Mr. Te'o was in the dark about the scam. "Te'oing" was briefly popular on social media. What's that? Posting photos of yourself kissing an imaginary person.
Grade:  A for imagination, C for results.
Anthony Weiner
doomed Mayoral candidate
Crisis:  As "Carlos Danger", sexted with 22-year-old woman—a year after another sexting scandal forced his resignation from Congress
Rabbi: Campaign communications director Barbara Morgan
Face-saving action: With wife Huma Abedin at his side, Mr. Weiner holds "weird press conference" (Gawker), admits peccadilloes
Result: Freefall poll results from likely voters; punch line status worldwide. Situation not aided by Ms. Morgan's calling former Weiner intern Olivia Nuzzi a "fucking slutbag"—on the record.
Grade: F-
Images via Getty