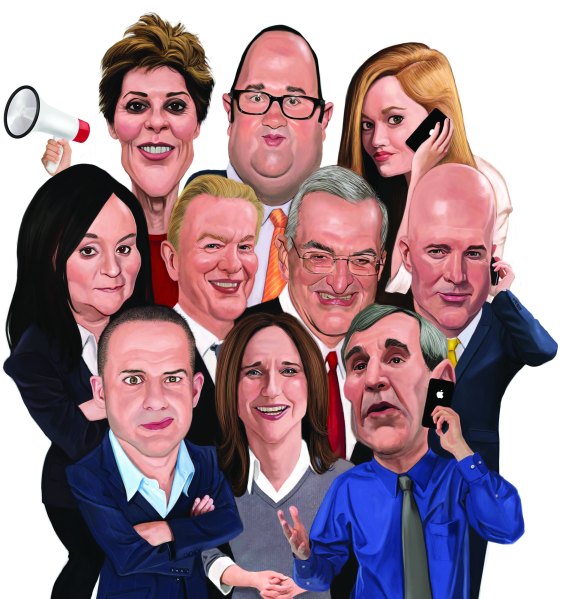 When Ken Makovsky forecast a "golden age of PR" in a 2011 interview, I rolled my eyes. What else would an agency guy say? But as The Observer surveys the landscape of New York's public-relations industry circa 2013, it looks like Mr. Makovsky wasn't just pitching. There has never been a better time to practice PR in New York. The recession's a bad memory. Clients are spending again. Digital has opened colossal business opportunities that play to the industry's strengths. And as traditional media operations struggle to keep up, PR firms are stepping in by creating stories rather than just pitching them. They are, in some ways, the new  newsrooms. And their influence is ascending.
New York itself seems to keep adding even more heft to its position as the center of the PR universe. It wasn't supposed to happen this way; media fragmentation was supposed to shift the poles toward the Tavi Gevinsons, or whoever, wherever it is they live. The opposite has happened. Our stock's gone up, and agencies are benefiting.
"It's a great time," said Steven Rubenstein, president of Rubenstein Communications, the PR powerhouse founded by industry deity Howard Rubenstein, his father. "The pathways to tell a story have grown exponentially. And it's become more complicated to maintain a good reputation. All this has made our industry much stronger."
PR has also emerged at the top of the marketing scrum as brands scramble to unite messages across an insane tangle of channels, pathways and niches. "I've been doing this more than 20 years, and there's a significantly greater influence of PR in the marketing mix versus the role of, say, advertising 20 years ago," said Sean Cassidy, CEO of indie powerhouse DKC.
Smaller players are feasting, too. "We saw double-digit growth in 2012," says Nancy J. Friedman, founder of 21-person travel-specialist firm that bears her name. "I only wish traditional media was able to keep pace."
If only. Unlike the media business, PR has totally ditched the late-aughts doldrums. Agency profits in metro New York zoomed 22.3 percent in 2012 over the previous year, according to an annual survey by industry consulting firm Stevens Gould Pincus. Billings grew by 6.9 percent. The minimum monthly retainer for New York metro agencies averaged $10,000 this year. In terms of employment, the industry has expanded by 8.2 percent, Stevens Gould Pincus reported.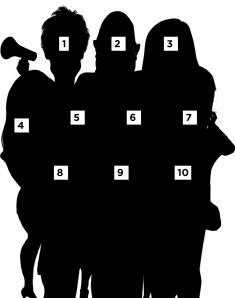 New York-based Edelman, the world's largest independent public-relations agency, broke the $700-million mark in global revenue this year for the first time, according to U.S. CEO Mark Hass. "We expanded relationships with our largest clients," he said. "Social media is an inherently PR-friendly platform, and public relations, digital, social media and stakeholder engagement are growing faster than the rest of the marketing world."
The rising tide has also meant massive boosts for ancillary industries, like party planning. PR-driven event spending in New York "is going crazy," said David Adler, founder and CEO of event-marketing site BizBash. "And the bar is higher. It used to be events were experiential. Now they need to be transformational to even be remembered." That's driven expenditures—from clients who pay for parties in the first place–through the roof.
Across the board, much of the boom has been fueled by social media. With an insane proliferation of channels to fill, agencies have transcended their old roles as message bearers to become content creators. What used to quaintly be known as story placements is now called "earned media," which can include anything from manufactured tweets to "curated" Instagram posts to agency-produced YouTube videos—and usually all of the above.
The result is more multidimensional campaigns than ever before and deeper relationships with clients who need ubiquitous brand presence. To help PBS launch its digital studio last year, generalist firm Goodman Media enlisted mild-mannered Fred Rogers for Mister Rogers Remixed: Garden of Your Mind, a weirdly hilarious three-minute video that set his dulcet tones to a rap backbeat. The response was bananas, with retweets from Good Morning America and celebs including Neil Patrick Harris and Joseph Gordon Levitt, along with days of national media attention.  More than 9 million people ended up seeing it, says Tom Goodman, the agency's founder and president. In the '90s, a similar announcement, carried by a boring old press release, might have generated, what, a mention in a trade journal?
"Sometimes, you just need one big message in one medium to move the needle," he said.
Likewise, M Booth's much-lauded campaign for American Express's Small Business Saturday grew tentacles on Facebook that gave the client once-unthinkable reach. A hit in Business Week might have impressed clients back in the day, but 3.2 million "likes" is serious buzz.
"Social media became this battleground between advertising and PR. So firms like ours expanded the scope of work to include owned media and creating digital content," says DKC's Mr. Cassidy. "When I started in the business, PR execs often didn't report to the chief marketing officer. It was a separate vertical downstream from advertising and a company's long-form marketing strategy. But it's now flipped. We're at the table when those decisions are made, because we have our hands on the real-time communication that you've seen proliferate through advent of digital media."
With every hit trackable, PR is measureable in a way publicists could never dream of even a decade ago. It has injected an element of science into a business that always described itself—sometimes sheepishly—as more of an art. It seems laughable now, but clipping services used to be the gold standard for measuring results. An agency could guarantee a clip appeared in a certain media outlet but couldn't prove anyone actually looked at it.
"A friend of mine told me his PR firm charged clients six figures a year for traditional media measurement but admitted they had absolutely no idea if the formulas and analysis that they created had any real meaning," says Goodman Media's Mr. Goodman.
Earned media "never used to be measured with such seriousness," agreed Paul Wilmot, the veteran fashion publicist who founded his own agency in 1997. "Now, we're doing launches and getting something like 300 million hits. When you do the math and calculate ad value, $7 million or $8 million, you say, 'This is serious stuff.'"
Tech PR firm Peppercomm even keeps a stable of research analysts to gauge the success of campaigns—a notion that would have been science fiction in the old days. "Measurement on PR programs has always been somewhat fuzzy, which has made justifying the spend on agencies somewhat difficult," says Jackie Kolek, a senior director and partner. "Agencies who can clearly illustrate their value to clients can easily head off the more-work-for-less-money discussions."
Then there's "paid media," once the realm of advertising. PR agencies are jumping in the game with gusto, using storytelling chops to actually create the kinds of segments and stories they once pitched. On platforms like YouTube and Vimeo, consumers don't seem to know, or care, what's manufactured information and what's not.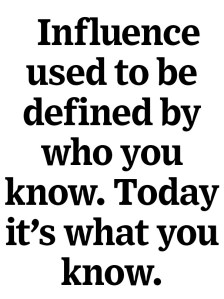 Agencies are even launching their own content-creation arms, like Weber Shandwick's Mediaco (tagline: "We help every company become a media company"), which just expanded to Asia. For Verizon, the company created a "digital newsroom" that cranks out daily stories balancing the company's messaging priorities with relevant conversations taking place on the Web; for Hellman's Mayonnaise, MediaCo brokered a deal with Food & Wine to cover the Aspen Food & Wine Festival "from an editorial perspective," company documents explain.
"It's about shaping stories and sharing stories and creating content to actively manage social sites," said Andy Polansky, Weber Shandwick's global CEO. The firm is also hiring even more former journalists to feed that beast. "Journalists have great skill sets in terms of fashioning those stories," he said. They're doing the same job, in other words, but on the other side of the table, where they're not facing the same doom-drenched workplaces that newsrooms have become.
Smaller agencies are playing similar roles, albeit on a more intimate scale. "My clients don't have time to tweet. They don't have the infrastructure. We know them intimately enough to speak in their voices," said Steven Hall, founder of the Hall Company, whose clients include restaurants and food brands. "Speaking in the client's voice is a very important function right now."
Agencies are even dipping toes into geeky realms like search-engine optimization, once farmed out to specialists. CooperKatz's Anne Green, whose agency builds SEO into campaigns, says "Google, and to a lesser extent Bing, must be kept top of mind in forming a communications strategy, in terms of the core role of public relations in search-engine optimization." That's new.
To Ms. Green's point, the nature of influence itself has shifted along with the targets. "When I started in the industry 21 years ago, influence was primarily defined by who you know," said Mr. Rubenstein. "Today, the anchor is what you know. Relationships are still essential, but they fit into a more complicated constellation."
While digital's driving the gravy train for PR, pros aren't tweeting the obit for traditional media just yet. Old-fashioned outlets like The New York Times still represent the platinum-level hit, according to nearly everyone interviewed for this story. "The most important news organizations of 10 years ago are even more important now," says Stu Loeser, the former Bloomberg spokesman who launched his own communications-consulting firm late last year.
The "consumption and influence of outlets like The New York Times has absolutely, positively never been greater," says Mr. Cassidy. "The notion that its relevancy has declined is a fallacy. Every story that runs there, on any platform, gets aggregated and repurposed somewhere else." Print "still rules for my clients," agrees Nancy Friedman.  "Wouldn't you rather be in the September issue of Vogue than on Vogue.com?"
But some small agencies say they're getting squeezed. "Clients are demanding much more for the same fees, and that is usually in the form of social media," says Lori Rosen, founder and president of generalist firm the Rosen Group. "They want that woven into the process for the same retainer fees, which is virtually impossible since social media efforts require additional staffing."
Jennifer Baum of Bullfrog & Baum agrees. "Clients most certainly expect more work and results for less money," she says. "There's simply more competition, and clients' expectations are different. And in our industry, where margins are so small, it probably takes a while to make the decision to even speak with a PR agency."
Since most of the social-media giants are headquartered in San Francisco or Los Angeles, there had been some grumblings about a shift westward in the center of PR gravity. Would New York, historically the center of the universe, cede stature to places like—God help us—Santa Monica or Mountain View?
No way. "We still have more local outlets than any other market, and the majority of national publications have offices here," says Mr. Hall. "We have The Times, the Post, The News, The Observer, weeklies. There's a huge amount of opportunity compared to most places. And the direct link to journalists is much stronger here. Bloggers haven't diminished that."
Outside a few star reporters, "nothing takes off in a way that even a small story in the New York press does. That theory about Twitter just didn't pan out," insists Stu Loeser. "Supposedly, a great story in The Chicago Tribune or LA Times or Pittsburgh Post-Gazette can get legs, and, if it's not on a par with something in New York City media, they can punch above their weight. But they don't."
Mr. Cassidy predicts that "the major media companies, who are reinventing themselves to be on digital platforms, are not going anywhere. In fact, they're only going to get bigger."
And so is the PR business. Industry forecasts are bearing out Ken Makovsky's "golden age" prophecy: Employment is expected to surge 23 percent by 2020, according to the Bureau of Labor Statistics. Public Relations revenues should jump 17 percent by 2016, outstripping ad-spending growth by nearly two-thirds, another industry forecast says. And a 2012 report from private equity mavens Veronis Suhler predicted PR as the fastest-growing segment in the $1.4 trillion communications market, after pure-play Internet and mobile spending.
"We are in the early stages of the Golden Age," Makovsky said recently. "As the Internet matures, our business will bring opportunities yet unseen and not even contemplated."
For once, it looks like you can believe the hype.