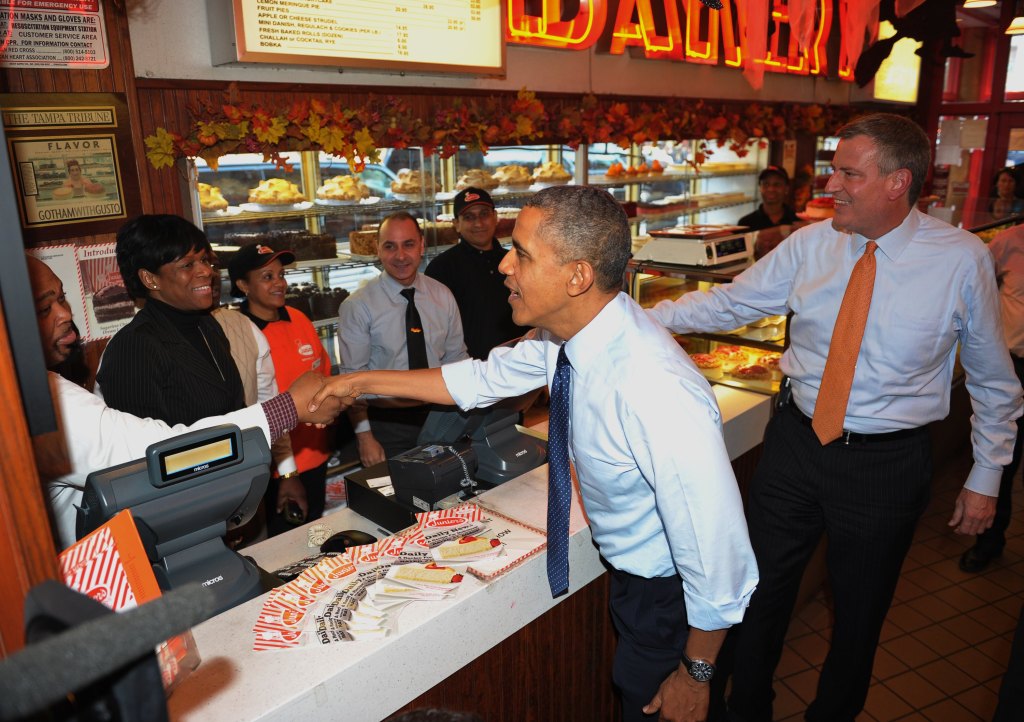 President Barack Obama and mayoral front-runner Bill de Blasio made a surprise visit to Junior's Restaurant in Brooklyn this evening, where they greeted unsuspecting diners who welcomed them with loud applause.
"It was pretty incredible. We're pretty honored," said owner Alan Rosen, who told Politicker the pair spent at least half an hour in the sprawling restaurant together, chatting with diners and staffers after jetting from a schools speech in Crown Heights.
"He greeted every single customer and every single employee in the building, which was quite gracious and amazing to me. Literally every single person," he said.
The president–who'd lived briefly in Brooklyn in his younger days–also decided to bring home some goodies for the road. He bought two cheesecakes, according to Mr. Rosen: a traditional, classic New York-style cheesecake and a strawberry cheesecake–as well as a couple of black-and-white cookies "for his girls."
"He said they were going to eat them on Air Force One on the way back to Washington," said Mr. Rosen, who said he'd been given barely any advanced notice before the Secret Service showed up for a security sweep.
The president paid the approximately $73 tab with $80 cash, he added, telling staff to keep the change, and also left behind a gift–a signature on one of the eatery's large holiday pumpkins right above a drawing based on a piece by the famed graffiti artist Banksy.
Brooklyn resident Deborah Howard said she was enjoying her dinner when the president suddenly walked into the restaurant and couldn't believe her eyes as he walked around the room, hugging people and shaking hands.
"It was great! … He said hello to everybody. They were hugging him and calling out," she said of the diners, who also offered a spirited goodbye. "They applauded him leaving: 'Thank you for coming. We love you!' It was really great."
Thomas Barba, Mr. Howard's dining companion, said he'd joked around with Mr. Obama, who stopped by their table and asked his name.
"I said, 'Tom,' and then I asked his name. He said, 'Barack,"' Mr. Barba said with a laugh. He also assured Mr. de Blasio–who is more than 40 points ahead in the polls less than two weeks before Election Day–that he had little to fear. "'Don't worry about it, you're home free,' I told him," he said.
A pool reporter at the restaurant described another encounter with the wise-cracking president.
"How are you? Nice to see you," the president told a woman sitting at a table with a male companion, before giving the woman a kiss on the cheek. "I hope you don't mind I kissed your wife," he told the man, prompting laughs.