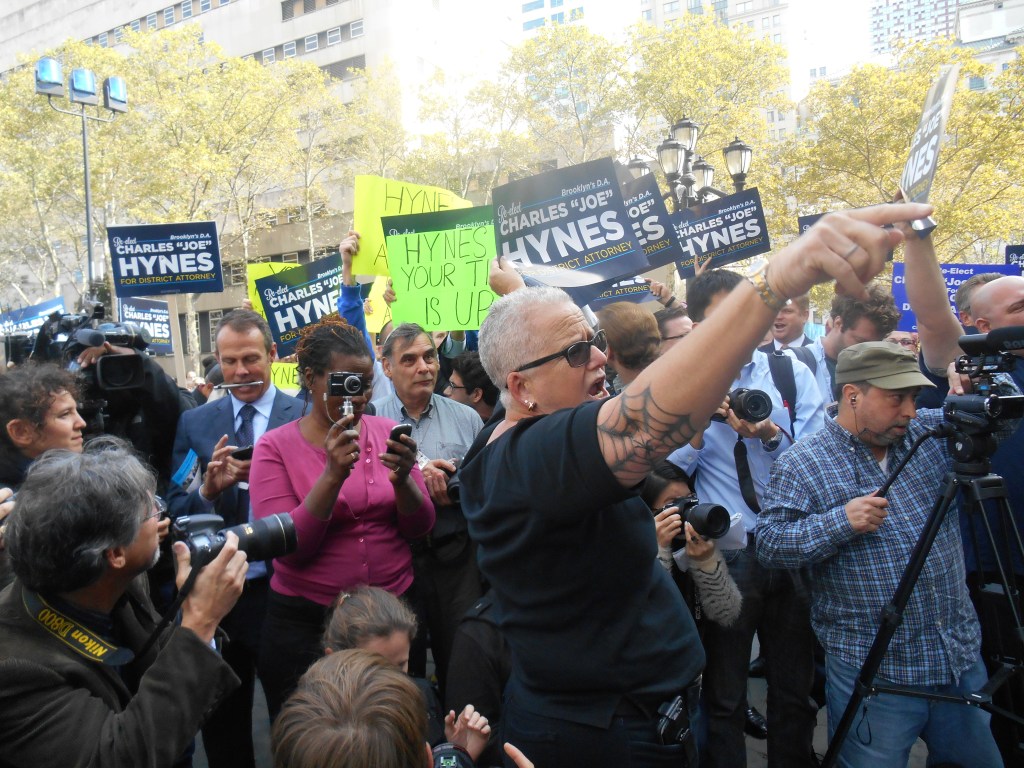 Brooklyn District Attorney Charles "Joe" Hynes's sudden re-election launch got off to an acrimonious start today when supporters of rival Ken Thompson, who defeated Mr. Hynes in the Democratic primary last month, heckled and interrupted the event.
As Mr. Hynes took the podium to announce his general election bid on the Republican and Conservative lines, Thompson backers shoved their way to the front of the crowd while waving bright green signs and screaming, "Hynes must go!"
The press conference, held on the steps of Brooklyn Borough Hall, was delayed for several minutes as Hynes backers strained to drown out the chants. "Let's go Joe!" they cried from the steps. Supporters waded into the throng to thrust their own blue signs in front.
Mr. Hynes tried several times to speak during the dust-up before succeeding. "This is all about a pre-election," Mr. Hynes finally began. "I don't mind dissent as you can yell all you want, but at least be decent enough to listen to what I have to say."
"We've listened for 21 years," yelled Mark Appel, a long-time Hynes foe. Hynes backers shouted "Shut up!" in response, and one even asked Mr. Hynes to check Mr. Appel's criminal record.
"You've already demonstrated you're opposed to the Democratic process," Mr. Hynes shot back.
Reiterating the rationale he gave to the press last weekend, Mr. Hynes said he was continuing his campaign because of the relatively few Democrats that voted in the primary and the alleged involvement of a former Brooklyn Democratic Party boss in Mr. Thompson's campaign. While Mr. Thompson denied that Clarence Norman, convicted by Mr. Hynes on corruption charges years ago, had any involvement in his campaign, Mr. Hynes insisted otherwise.
"Now that Norman has acknowledged that he ran Thompson's field operation on primary day, it defies credulity that Thompson continues to deny that Norman had anything to do with the campaign," he declared. The Thompson camp counters by pointing out that the firm Red Horse Strategies headed up their field operations.
Mr. Hynes also said his own viability had changed since Election Night, when he conceded the race. (He went on to concede again two weeks later.)
"Recently, I've been assured that enough funding will be available to permit me to wage a credible and successful campaign for re-election," he said. "Now that such a campaign is realistic, I believe I owe it to the greater number of voters of Kings County to give them an opportunity to choose who their district attorney will be, rather than … ceding the election to someone who is simply unqualified to run this office."
Political observers believe Mr. Hynes faces an immense uphill battle in an overwhelmingly Democratic borough, but Mr. Hynes's supporters ague that if the incumbent can hold his margins among Democrats, the support he picks up from Republicans and independents will put him over the top.
"I'd be the first Democrat who was elected on the Republican and Conservative lines, that's how," Mr. Hynes told Politicker when pressed on how he intended to overcome the borough's natural partisanship.
Reached for a response, Thompson spokesman James Freedland linked "Republican Joe Hynes" to the Tea Party and expressed confidence that "all of Brooklyn's voters will render the same overwhelming verdict as they did in the primary."